Posted by Christiana Szczerba - Zaabre on 15th May 2017
Your Ensuite is the space you want to be calm, orderly, and if at all possible, exuding a dash of luxury. But if you share your Ensuite with someone else, there are a few extra things to think about before you build or renovate this space.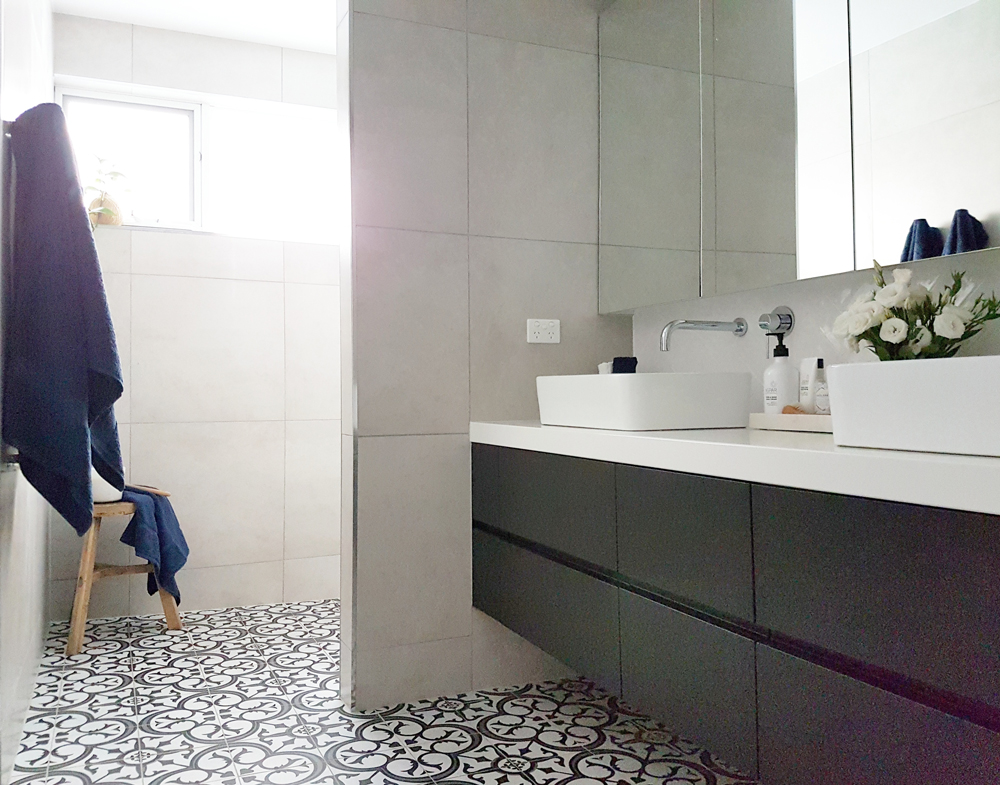 1) Are you both trying to get ready at the same time?
Do you find yourself standing outside the shower tapping your foot, while your beloved performs Adele ballads for the shampoo bottles? Or hovering around the basin with a mouthful of toothpaste lather, waiting for your window to spit? A double shower and double vanity would make your mornings run a lot smoother, and you don't need loads of space to fit them in if you plan carefully.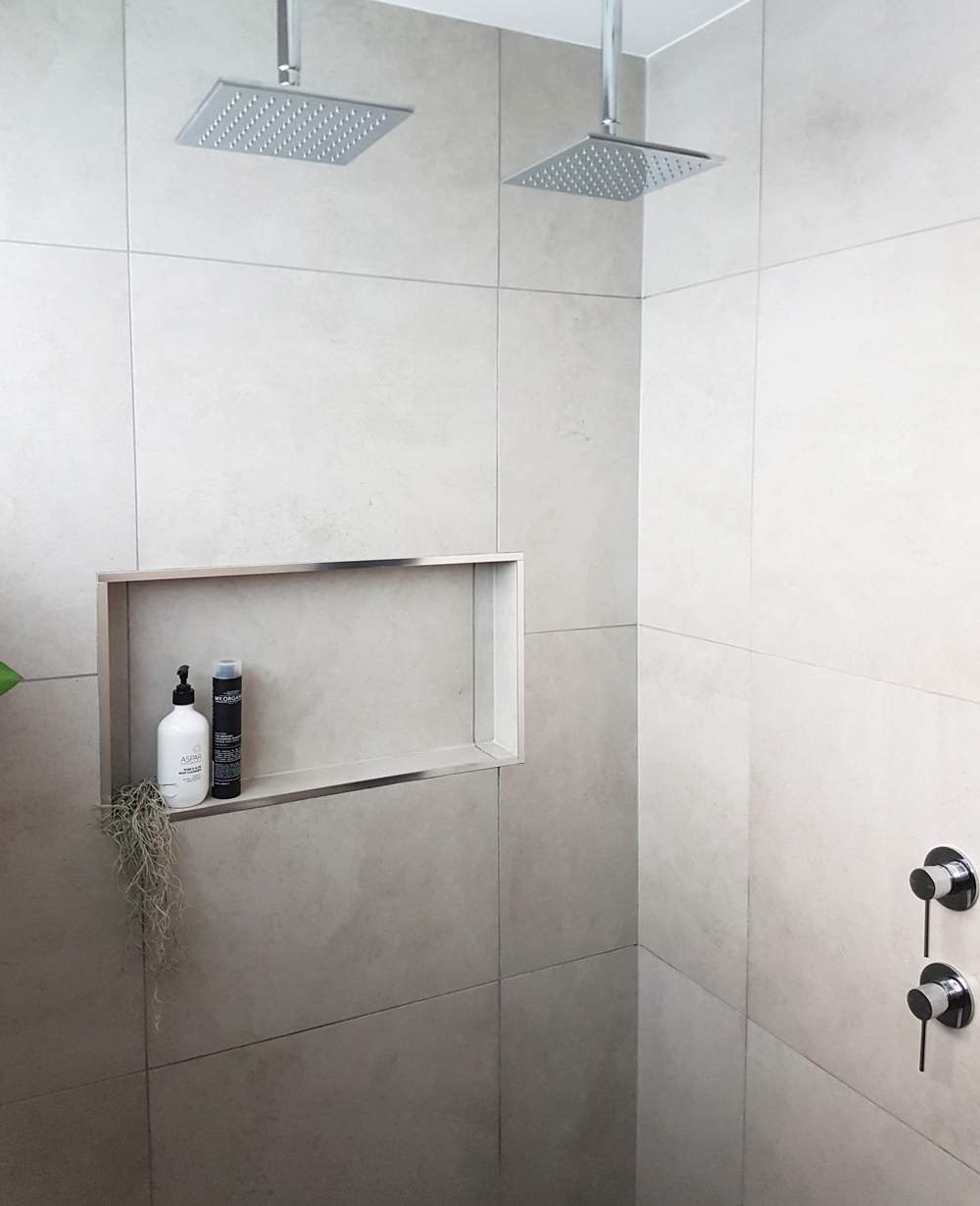 2) Think harder about storage. No, harder than that.
Don't just throw in a vanity with a couple of drawers and switch your brain off. If you want an Everything-In-It's-Place ensuite, rather than a This-Cord-Spaghetti-Might-Actually-Kill-Us ensuite, you need to think a lot harder about how much stuff you actually have/need/use often.
Mirrored shaving cabinets are life changing, but pop a power point inside (ideally one for each of you) and they become positively transcendent! Charge electric toothbrushes or shavers out of sight, or keep your hair straighter plugged in and ready to go on busy mornings. It's the stuff dreams are made of I'm telling you!
Also, if you're planning on buying a slightly fancy vanity (ie. anything other than the cheapest one you can find at Bunnings), then take the time to investigate what your local joiner can offer you in terms of a custom vanity. You can be pleasantly surprised when comparing their quote against the better quality off-the-shelf vanities, and it will allow you to use every millimetre of space you have to the full. It also gives you the opportunity to add nifty organising tricks like a hair-tool drawer, or build-in bin or washing basket.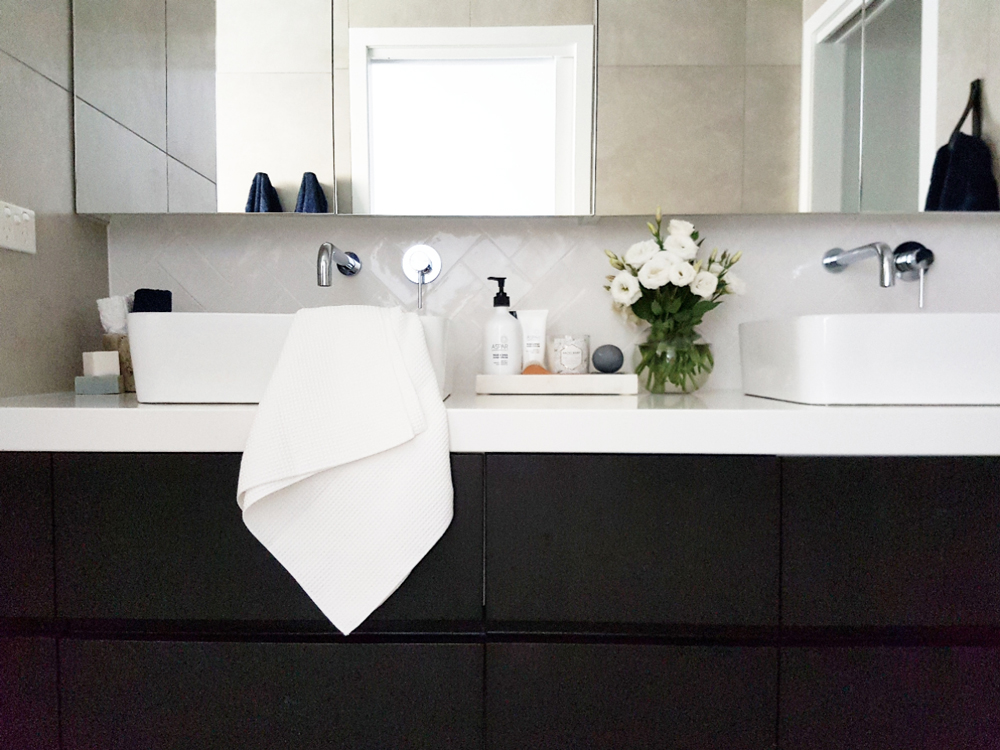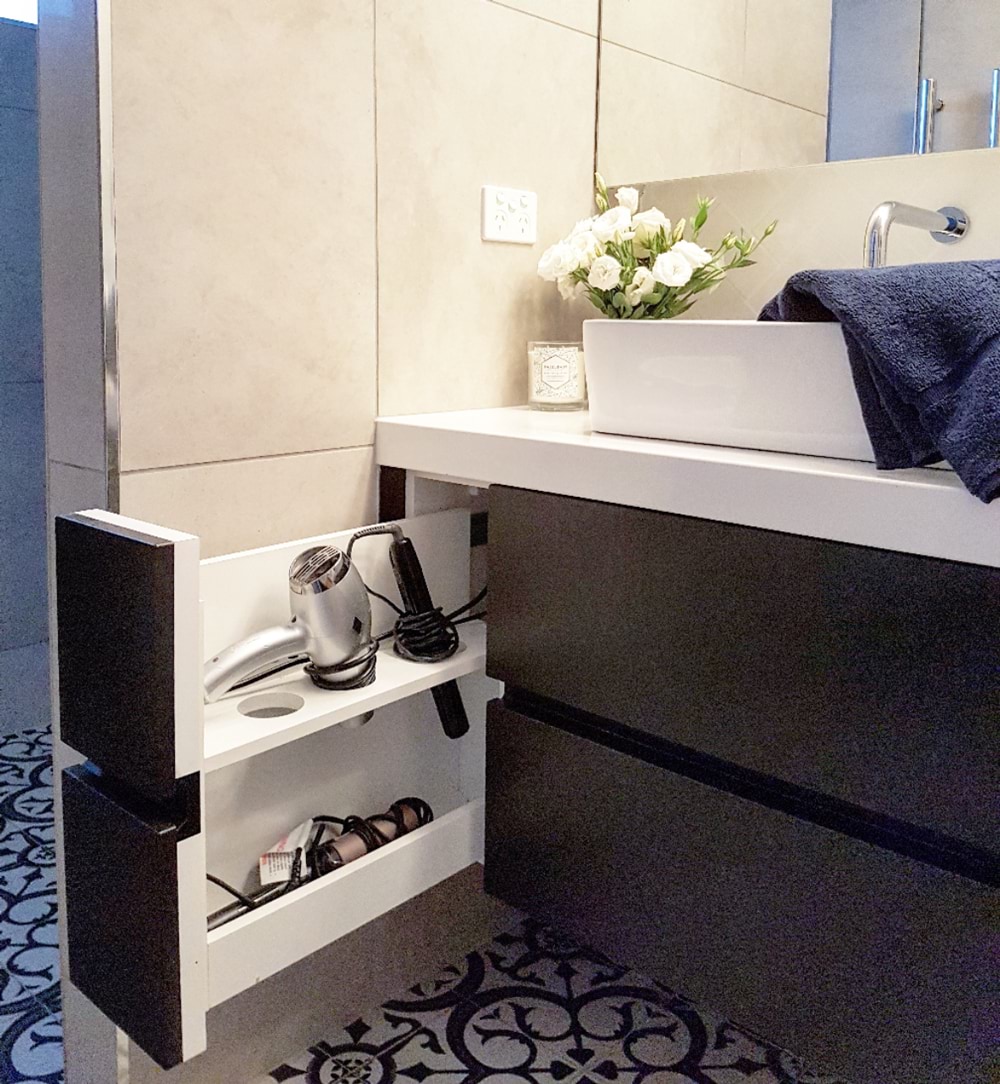 3) Put a door on the toilet.
If you have the space for a stud wall with cavity sliding door to divide the toilet from the rest of your Ensuite, don't think twice! Go forth and put an airlock on that bad-boy, it's (arguably) the most romantic thing you can do in your Ensuite.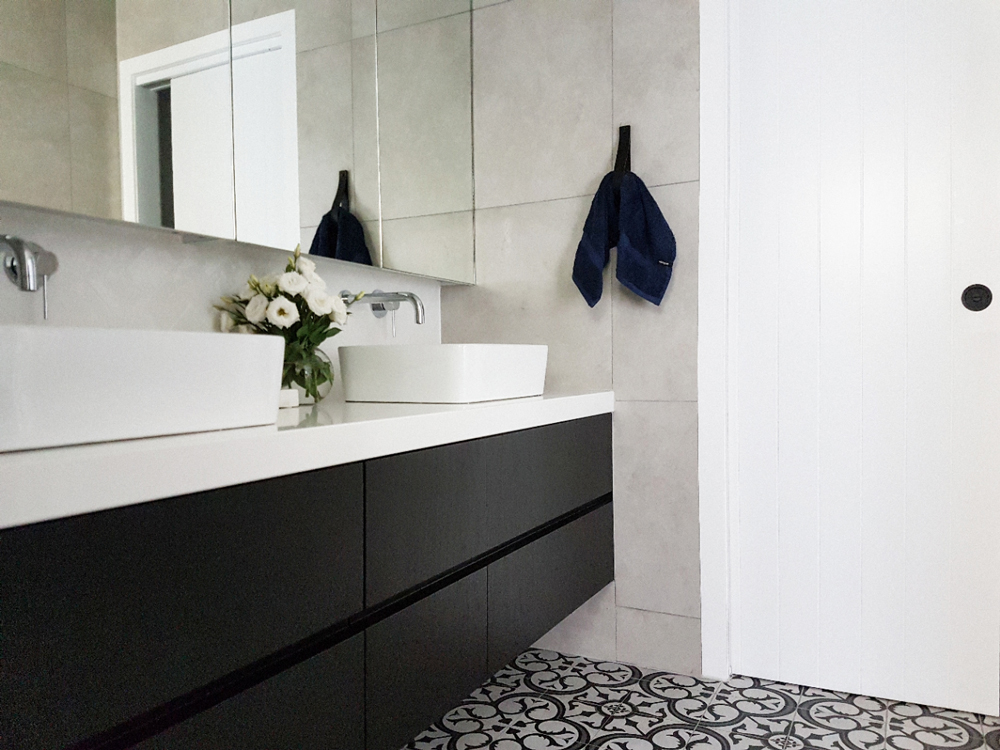 4) Style baby, style
You don't need the most expensive tiles money can buy to create a feeling of luxury in your Ensuite sanctuary, styling makes all the difference!
When styling this ensuite I chose Canningvale Australia's Royal Splendour Towel Collection in the deep, lush Mezzanotte Blue. I chose these because not only do they look luxurious, but they also feel amazing. A reclaimed timber stool provides a warm tone, texture, and a handy spot to hold a bath mat, exfoliating brush, and beautiful Valentine Lily Scented Soy Candle. Plants and a little posy of fresh flowers also serve to soften the hard surfaces in a bathroom.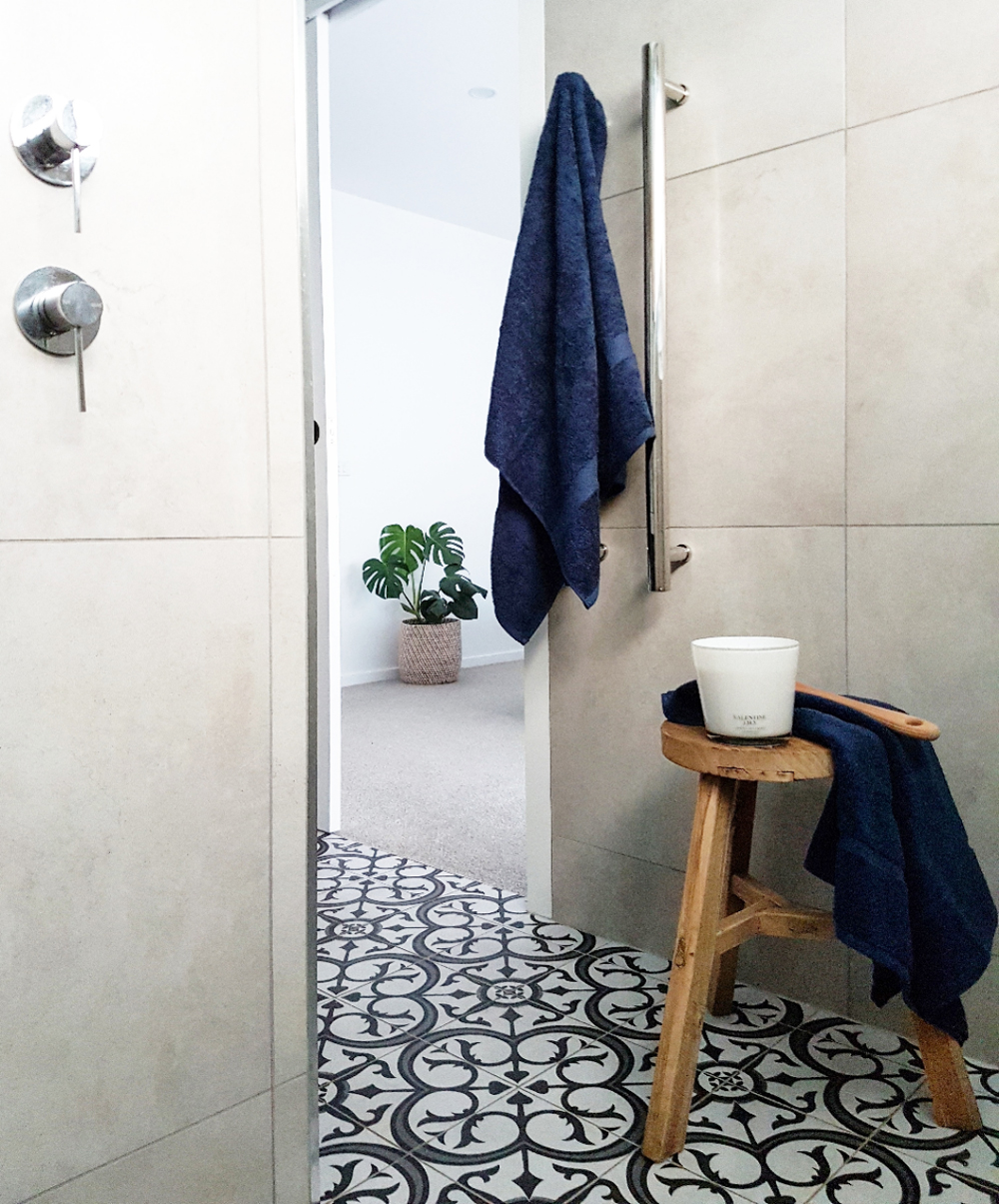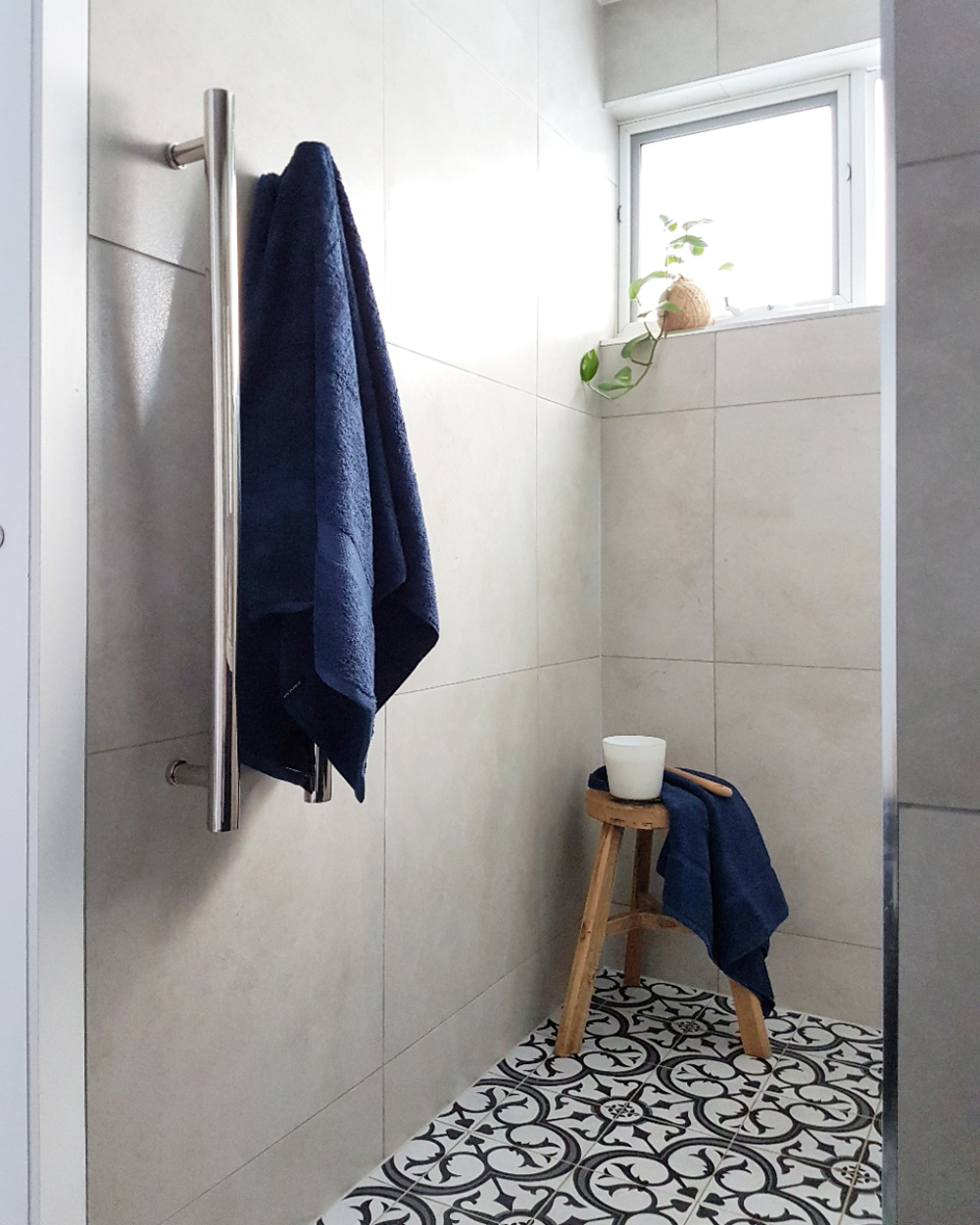 5) Having pampering goodies on hand makes you feel pampered.
Display that gorgeous body oil, nourishing hand cream and beautiful soaps! Surrounding yourself with pampering goodies creates that nourishing Spa vibe in your very own ensuite, and it also reminds you to actually use them!
---
This article was written by Christiana Szczerba, the founder and creative behind Zaabre, a boutique interior design studio based in Hobart, Tasmania.
Style The Look Yourself! Canningvale Products Featured: