Posted by The Canningvale Team on 22nd Jun 2018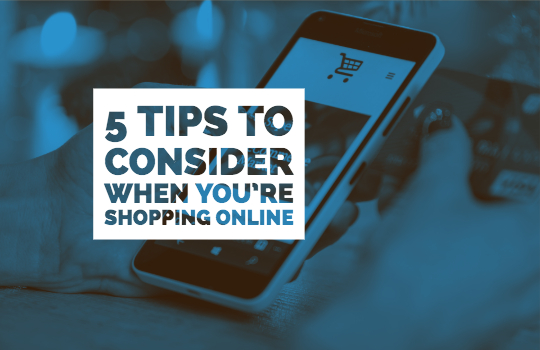 Online shopping is now the norm, with more than two thirds of us making online purchases on a regular basis. A 2016 report showed that the majority of Australians now prefer online shopping over the traditional in-store experience, thanks to factors of convenience, price, and variety. On the flip side of the coin, many online shoppers reported negative experiences, ranging from poor products to slow delivery and online scams. Whether you've experienced your own online shopping horror story, or are worried that you might, there are a number of things you can do to make sure your next online purchase is a good one. Here's what to look out for next time you buy:
1. Security
Online scammers became far more sophisticated last year, moving from traditional phishing scams (which had a 'success' rate of around 1%) to website cloning, which currently has a 'success' rate of around 50%. While cloned websites often look near-identical to the authentic versions, there is - luckily - one very easy way to spot a fake. Check the web address - if words are misspelled or the address starts with 'http' (as opposed to the securely encrypted 'https'), you're being scammed. Leave the site and, if you're feeling compelled to do your civic duty, make a report on the ACCC Scamwatch website.
The other thing you can do to ensure your online security is to make payments using a secure payment service, such as eWAY, PayPal, or Afterpay. Here at Canningvale, we offer all three, doing our part to make online shopping safe.
2. Returns Policy
It's important to check a store's return policy before you make a purchase. While Australian stores are legally required to provide returns for faulty items, they can be less generous when it comes to poor fit or change of mind, potentially leaving you out of pocket for an item you'll never use.
We believe you should only spend money on products you love, and are happy to offer a full refund or exchange on any item that's returned to us in a resalable condition within 30 days. If you're thinking this is relatively standard, wait until you hear about our quality guarantee.
3. Delivery
Each online store has their own delivery policies and timeframes, meaning you should read up on them before making a purchase. You only need to order something for a specific event and have it arrive after the occasion once to understand the importance of this. Key things to look out for are:
processing time (which can increase during busy periods);
delivery cost; and
delivery provider, as each has their own process for attempted deliveries, such as leaving your parcel unattended or diverting it to the nearest post office or depot.
Because we're talking about ourselves a lot in this blog, we wanted to add that we have a processing time of one working day, charge $9.95 for delivery of orders under $130, and despatch via courier.
4. Quality guarantee
Something else to consider when shopping online is the quality of what you're buying. Because you can't physically touch an item, this can be hard to gauge. Your best bet is to look at any guarantees or warranties on offer: if the seller is prepared to stand behind their product, you can be confident it's something that will work and last well.
As an example, we back all our products with a 5 year warranty , offering a replacement or full refund for any manufacturing faults within that period.
5. Customer reviews
The final ace you have up your sleeve in the online shopping game is the ability to read customer reviews. Stores that have something to hide won't make these readily available; stores than stand behind their products will have them readily displayed. Reading the assessment of previous buyers can be incredibly helpful: they're non-biased and can often highlight key pros or cons of a product simply by reiterating aspects mentioned by previous reviewers.
We're going to take this opportunity to toot our own horn one final time. We currently have 1000s of Canningvale product reviews readily available on our site. Simply scroll down to the bottom of each product page to find relevant entries.
Happy shopping!