Posted by The Canningvale Team on 20th Mar 2018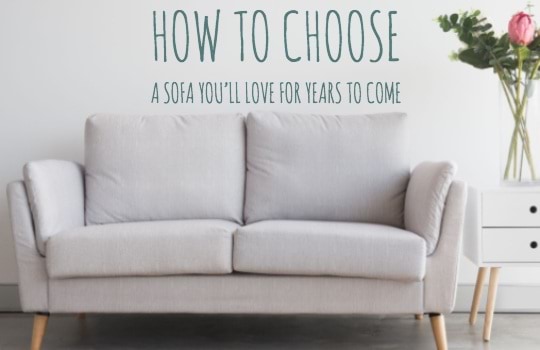 Buying a new sofa is a big deal. Few pieces of furniture in our homes are used so often, serve so many purposes, or are on display to family, friends, and nosy neighbours at such regular intervals. All these factors - combined with the plethora of options on the market - make picking the right sofa a tricky decision. This leaves a lot of room for error, whether it's choosing the wrong colour, an inconvenient size, or a model that doesn't stand up to your way of life, presenting you with saggy cushions and squeaky springs.
Because buyer's remorse is no one's friend, here's a list of all the things you should be considering when you're on the lookout for a new sofa. Armed with this list and a little self-reflection, you'll be able to make a choice you'll be happy with for years to come.
Your lifestyle
Perhaps surprisingly, the most important part of the choose-your-best-sofa-equation is you.
Suitability is subjective, a fact which can be illustrated by how much you loved your forest green bean bag chair back in the 80s. It was great to flop into, easy to move around the house, and had a cover you could pop in the washing machine every so often. These days, your stately leather model is a much better fit, thanks to its supportive structure, buttery texture, and the way it ties in with the rest of your room.
A sofa's suitability doesn't just depend on time of life factors of course: you might love your best friend's white six-seater but know it wouldn't work in your home, thanks to your smaller living room and love of red wine.
Use the following questions as a starting point to help you narrow down the kind of sofas you should be looking at, remembering the best answers are simply the honest ones:
Who lives in your house (including kids and pets)?
How often do you entertain, and in what numbers?
How do you use your sofa? (e.g. do you eat on it; are you usually sitting or lying down?)
What do you love about using your current sofa?
And what aspects have proven challenging?
Size
Choosing the right size sofa can make or break the look and functionality of a room. A lot of people tend to go as big as a space will allow, which results in visual overwhelm and awkward manoeuvring. On the other hand, choosing a sofa that's too small creates a sense of imbalance and – depending on how many people are sitting down – discomfort.
To help guide your choice, consider the size of other items in your room. All your furniture should scale, meaning a large coffee table will better match a large couch, just as a small dining table will better match a smaller sofa.
Most importantly, you should always measure out the dimensions of any sofa you're considering to see how it will fit in the space. Once you have it mapped out, walk around it to test functionality (e.g. can you easily walk past it to other parts of the room? Is it far enough away from the coffee table and TV?), remembering to check its back height against any nearby windows. You should also check whether it will fit through your front door and, if not, consider what your other delivery options might be.
Fabrication
Fabrication has a big impact on the look, feel, and durability of your sofa, making it an important aspect to consider. Fabric sofas, like those in our beautiful Sensazione collection , are generally cooler in summer and warmer in winter than leather options (i.e. nicer against the skin), but can be harder to clean. Leather look sofas, just like our stunning Elegante collection , are usually easy to clean and highly durable, but do take a little more maintenance. They're also more sensitive to sharp edges, so devote some serious thought to their suitability if you have pets in the house.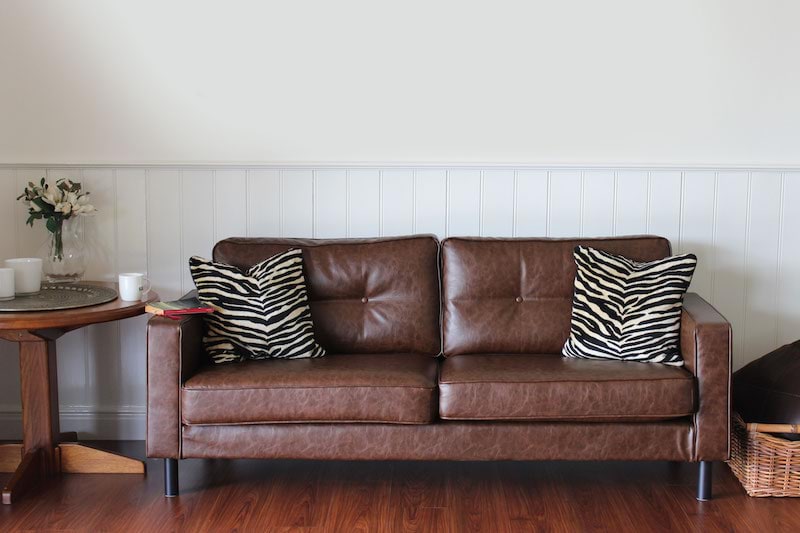 Colour
Once you've narrowed down the fabric type, your next choice is fabric colour. As a general rule, plain neutral colours are best, thanks to their ability to date well and adapt easily to any styling changes: you might be surprised how much a new throw and fresh cushions can change the look of the same sofa. Finally, if your sofa is in a position that gets a lot of sun, opt for a light colour to minimise fading.
Construction
By now, you should have an idea of what your ideal sofa will look like, meaning it's time to turn your attention to comfort and durability. Look for solid timber frames, purpose-made cushions (some of the cushions in the cheaper models are pulled together from offcuts or recycled pieces, resulting in a poor and uneven structure), and a solid warranty.
All our sofas meet the standards above and are crafted to live long, happy lives in your home. They come with a fiveyear warranty and a seven day return period, within which you can send your sofa back for any reason, including change of mind.
Combine this with the considerations listed above, and you've got all the ingredients you need to choose a sofa you'll love for years to come.