Posted by The Canningvale Team on 31st Jul 2020
This week we had the pleasure of interviewing the founder of home_loves, Belinda Jovanovski. Drawing her inspiration from art work and Scandinavian design, she aspires to create a home that feels fresh and looks beautiful. Join us as she reveals her interior styling tips, trends in the industry as well as her essential styling pieces.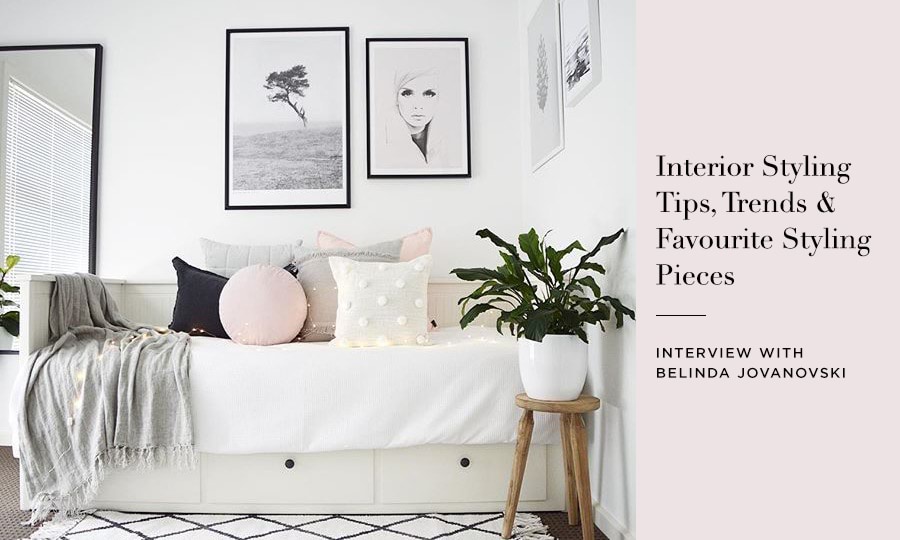 1. Introduce yourself and tell us how you prepared for a career in interior styling.
My name is Belinda Jovanovski and my Instagram page is home_loves. I am obsessed with anything interiors; from styling to homewares. You name it, I adore it. I started my journey with home_loves about 18 months ago and I have enjoyed every moment. It has become a great passion of mine as I would love for this to become something I do on a more permanent basis.
2. What do you love about interior styling?
My background and current status is an early childhood educator and I've always had creative bones working within my industry. My love for interior styling began a few years ago when oddly enough I was very much a hippie at heart and my home was a great representation of that everything was colourful; collective and minimalism didn't exist in my vocabulary!
I was just shy of my 30th birthday and a new year was drawing upon us when I felt the great urge to declutter and turn over a new leaf (call it a mid life crisis maybe hehe) and that's where it all began. I repainted my house, sold all my dark wooden hippie furniture and collective pieces and decided that I wanted a new start in my home; something that was clean, fresh and represented this new phase that I was entering!

3. What inspires you?
I find inspiration everywhere; whether it's the outdoors, cafes and restaurants, visiting my favourite stores (Norsu interiors is my greatest inspiration and a must visit in particular their Hawthorn store, it's a place I never want to leave!) but need to say my inspiration is often through Instagram. Whether sourcing new products, discovering new inspirational accounts with beautiful homes with their home owners being so talented - its opened many paths for me and opportunities all while meeting some wonderful people!
4. Sustainability and design – how do they mix? And how important is it for you?
Both are important as I do believe you do need to maintain a sustainable lifestyle within your home. However designing your home and space does take more consideration as I think you need to have all the elements of planning a comfortable, functional and practical home first.
Which means, keeping in mind your big ticket items like the layout of a couch in your living room or the orientation of your bed in a master bedroom as it is the bones of your home and it is what makes the first impression of a home - it's the feel of the space and with that comes your design choices and lastly leaving the fun stuff to last. In other words, the "dressing of the rooms" where you can add your personality and style to bring your design and spaces together.
5. You incorporate a lot of plants into your interior styling. What role do plants play in your interior design and what are some of your favourite plants?
I certainly love my indoor plants, I believe it's one of the key styling pieces to any space as it brings freshness, colour, texture and life! I don't think one can ever have enough. I know when I have that sense of urge to reshuffle a nook or space I often find I am then short of a plant or two and need to replace the plant from the previous spot. I do love a good old fiddle leaf and devils ivy. They are both equally beautiful and striking statement pieces when it comes to elevating and adding that final touch within a space; whether it's a tall lush fiddle leaf in your bedroom or living area to a beautiful devils ivy hanging in a ceramic pot in a bathroom nook.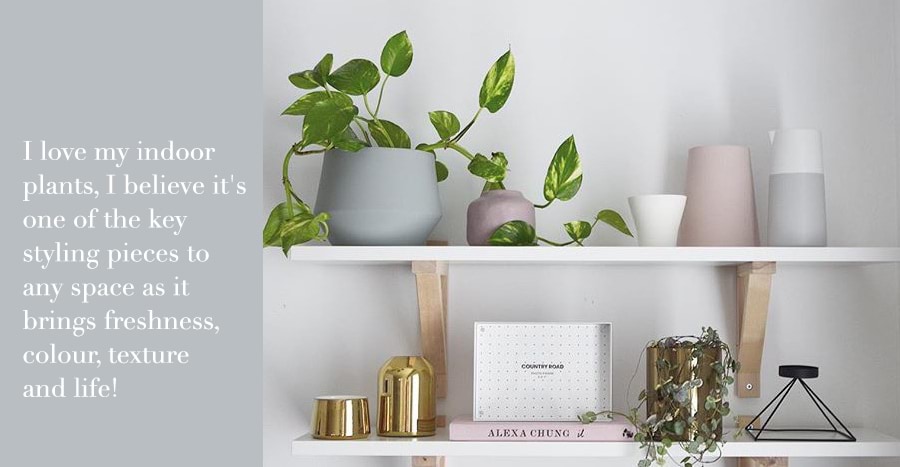 6. In your photos, your living spaces are clean and organised. What tips do you have for maintaining a tidy and clutter-free home?
Choose your statement pieces wisely and with that I mean pieces that you absolutely love! Within my living space I love my modular couch and I wanted to showcase it by keeping it minimal with styling as well as my coffee table and matching side table, again I wanted to showcase and celebrate the beautiful nature of the table with its light timber oak. When styling my spaces I do like to consider tidiness and a sense of declutter. I just keep the fundamentals in mind; add a plant for life and texture, books for height and little bits and pieces for interest and contrast to bring everything together all while keeping my taste and palette in mind.
7. You recently styled our Vintage Softwash Quilt Cover Set and Luxury Cotton Waffle blanket. Can you tell us why you wanted to go for this look and guide us through how you styled the look?
I chose this look as I wanted to achieve a calming feel within my bedroom. My starting point was my grey linen bed head and the Vee Speers print as I felt that the beautiful soft blue of the Vintage Softwash Cotton Quilt Cover Set and the grey Luxury Cotton Waffle Blanket would all tie in beautifully. As for styling, I wanted to introduce texture in the bedroom whilst keeping it clean and fresh - I chose cushions that had a point of difference (whether it be size or shape) and then added a soft and darker toned cushion just to add a subtle punch - whilst working within my platte and the bedroom.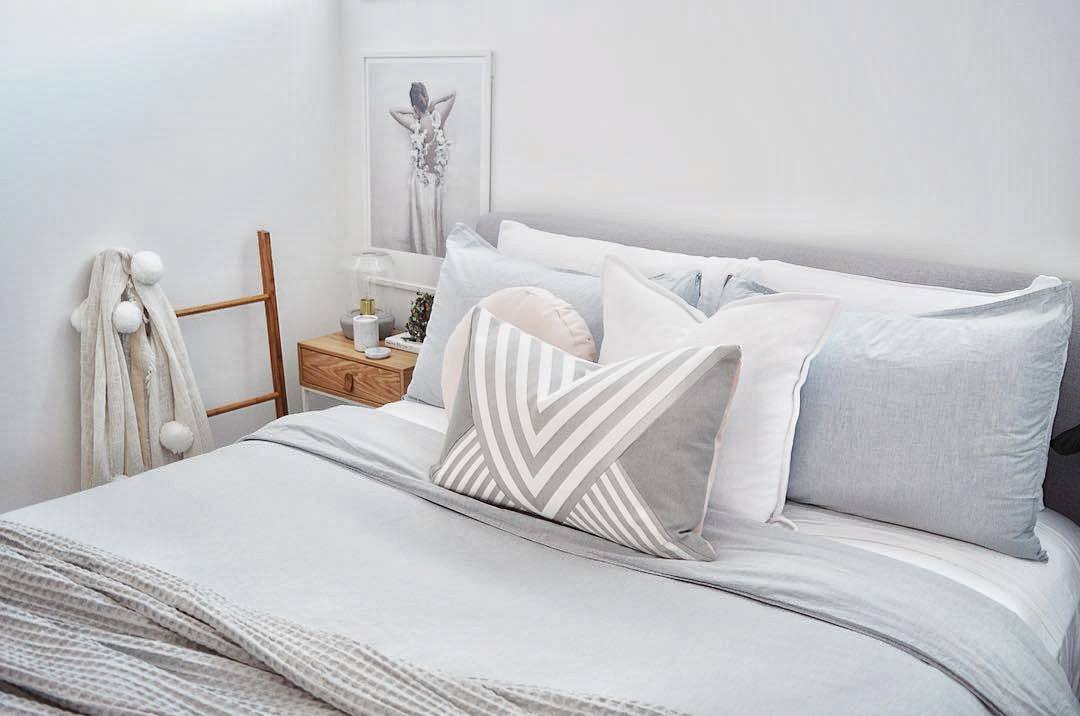 Working with the tones of the room, styling the bedside was complimented with similar tones of the room with an introduction of marble and gold to bring in interest and contrast also.
8. What are the latest interior design trends? How do you stay on top of current trends?
The boho trend is hitting the surface once again but it's not your loud and collective trend, it's a lot more muted. Think white walls with statement black and white art work, over sized macrame wall hangings, canopies, sheer white linen curtains, white over sized pendants, bringing the outdoors in with large branches in vases. Sustainability is taking trend also with the boho look; with reworked wood to create bed heads, benches, old furniture has also been brought back to life with a resand and a new lick paint. I adore this trend!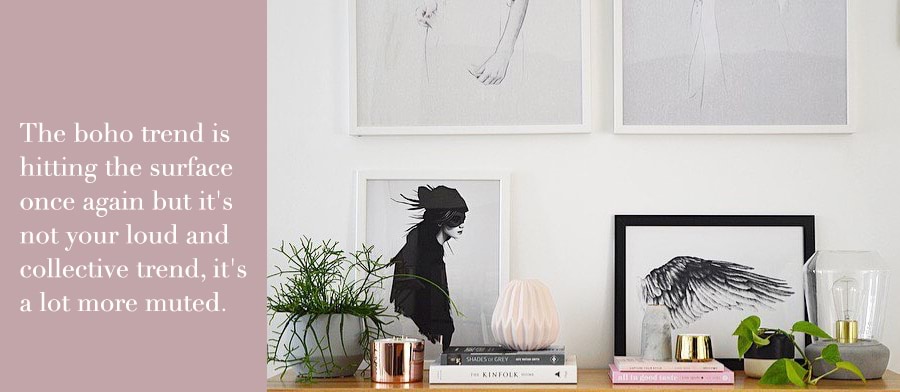 Trends are always evolving and I just generally stick to what I love. I still favour the good old white, blush and grey trend with a hint of brass and of course greenery.
9. What is your favourite pro-styling tip?
My tip is stick to what you love and the style that appeals to you. People often know what it is that they want, they just get lost in translation with what the trend/style it is actually called! Also don't be afraid to mix trends together! A hint of this and that in my book doesn't hurt anyone, as long as you have your foundation and the overall look is cohesive.
---
Inspired by Belinda's style? Create the look yourself: Shop Canninvale Home