Posted by The Canningvale Team on 7th Jul 2023
The key to home décor happiness may just be a well-chosen blanket. Think about it. If the average person spends 8 hours in bed each day, that's a whopping 2,920 hours each year. Not to mention all that couch time we rack up.

And what do you spend all that time snuggled under? Your blankets.
Blankets Are the New Best Buddies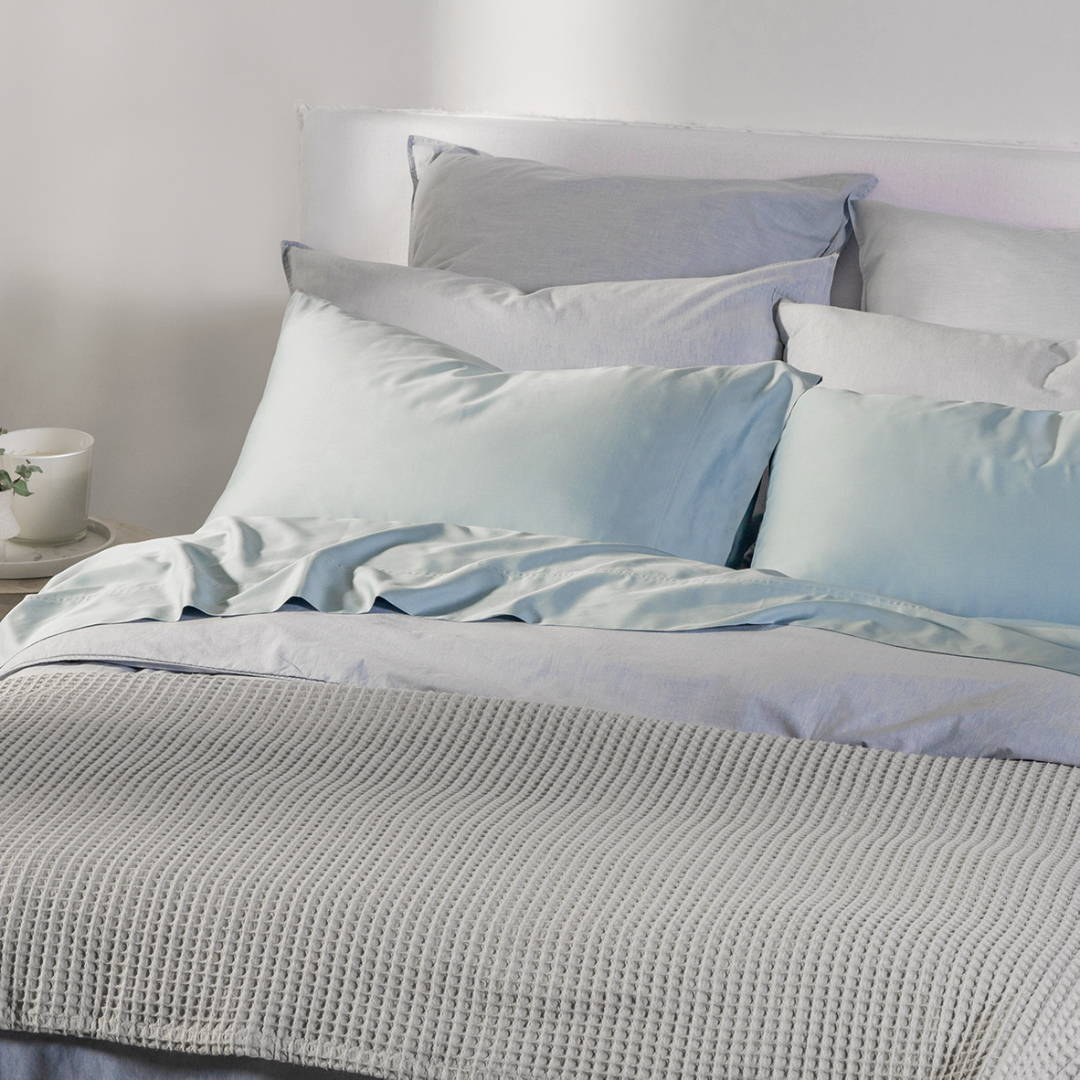 If you're looking to get cosy AND add some style to your space, a soft and luxurious blanket is going to be your new BFF. Whether you're cuddled up on the couch watching a movie or lost in a good book with a glass of wine in hand, your favourite blanket is a must-have.

Say goodbye to those old, heavy comforters and flimsy throws and say hello to the cosy and stylish world of waffle weave and natural cotton blankets. Don't settle for lacklustre bedding that does nothing to elevate your décor. It's time to upgrade to high-quality fabrics, textures and layers that will stand the test of time.
Wonder, What Are the Best Blankets Made Of?
When it comes to blankets, it's all about the material. And cotton is the real MVP here. It's a natural fibre that's been used for centuries in clothing and home goods for a reason – it's the gift that keeps on giving! The durability of waffle weave cotton blankets is no joke, and Canningvale blankets are the proof. They're so well made that you'll be using them for years to come, even in today's throw-away culture. So many of the fabric blends out there fade, fray, and begin to break down within a few months. Not 100% cotton. Mother Nature knows her stuff.

In addition to all of that, cotton is so soft - and it becomes even softer and snugglier every time you wash it.

Another great thing about cotton? It's incredibly easy to maintain. Blankets that have to be dry-cleaned or have bizarre special care instructions are a no-go: "Wash upside down for three minutes in lukewarm water, then inside out for two minutes in cold water. Rinse thoroughly before hanging this huge thing out to dry somewhere in your home - do not dry outdoors". That's a no from us.

Canningvale waffle blankets make it easy with their gentle wash cycle and low temperature tumble dry. Dry cleaning is an option, but it's not necessary unless you're feeling fancy. Just don't abuse them with bleach or wringing, and they'll last you a lifetime.
The Wonders of Waffle, Woven & Textured Blankets
The next thing to consider is your blanket's design. And let's be real – waffle weave blankets are where it's at. With their tiny, indented squares (from whence they get their name), waffle blankets are like a thick and thin blanket rolled into one – perfect for keeping you cosy on chilly nights, while still letting your skin breathe in warmer weather (all thanks to cotton's innate breathability).

But wait, there's more – waffle weave is designed to regulate your body heat, so you don't have to swap out your blankets as the seasons change. The thick outlines of each square retain heat, while the thinner inner parts allow air to circulate, resulting in maximum comfort for you (and your bed buddy!).

Woven blankets are perfect for layering. Do you start off shivering when you hop into bed, but end up throwing off the covers in the midst of a self-induced heat wave at 2am? Or do you and your bedmate have different temperature preferences? No need to fight over a thin blanket or a thick comforter – a waffle weave blanket (or two) is the perfect solution. Add a couple to your bedding arsenal and peel off a layer if you get too hot. Easy peasy, problem solved.

Plus, let's talk aesthetics. The textured design of a waffle weave blanket adds a touch of sophistication to any room. Whether you're using it as part of your everyday bedding bundle or as a useful and decorative throw, a waffle blanket is the perfect texture to set off otherwise blah areas of your home.
Shop: Canningvale Blankets