Posted by The Canningvale Team on 6th Mar 2023
As the seasons change, so do our bedding needs. While it may be tempting to stick with the same quilt year-round, there are a number of benefits to swapping your quilts for different seasons. Here are our top factors to consider on whether you should consider making a seasonal quilt switch.
So, should you change your quilt with the seasons?

In short, it depends. We know this probably isn't the clear-cut answer you were hoping for, but hear us out. Depending on factors like our age, gender, body composition and base metabolic rate, we all experience different temperature sensations while we sleep. For example, young children tend to sleep warm because of their high metabolic rate, while women tend to feel the cold more than men thanks to basic gender differences in body fat distribution.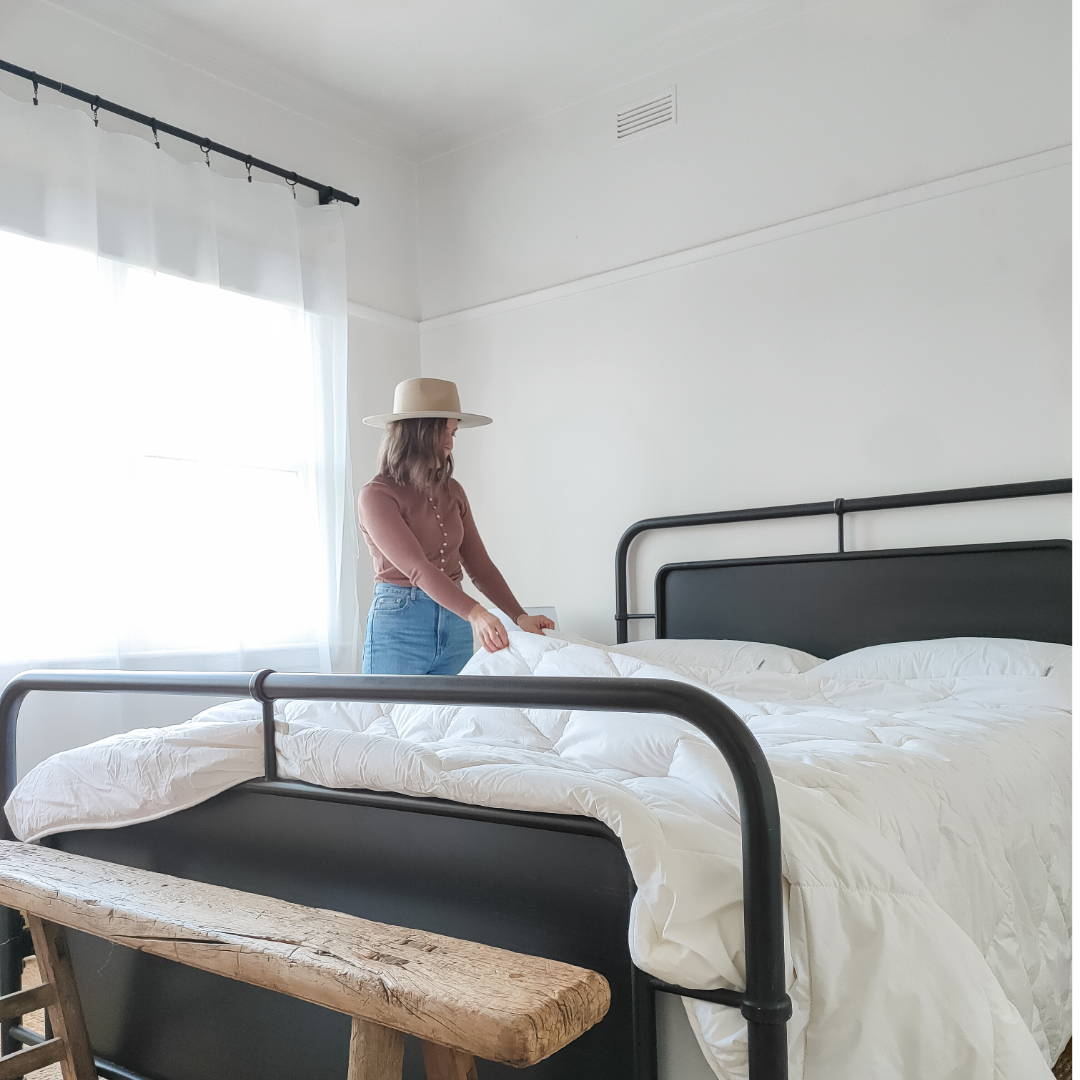 During the cooler months, it's important to have a warm and cosy quilt to snuggle up in. However, a heavy quilt in the summer can be too warm and make for an uncomfortable night's sleep.
Best for winter (or cold sleepers)
For cold sleepers (or the cooler months) our Luxury Quilts offer high-warmth and high loft, with a cotton japara (super high-quality cotton) cover for an extra snuggly night's sleep.
Best for summer (or hot sleepers)

For hot sleepers (or warmer climates), try Anatra All Seasons, which is medium loft and medium warmth, but particularly well suited to hot sleepers with its 100% cotton cover.

If you need to compromise
Or if you need to compromise… our Oca White Goose Feather & Down Quilt has a warmth rating of 5, featuring box quilted panels for even distribution of warmth, weight and comfort, ensuring you're never too hot OR too cold. It includes a 100% cotton japara cover, which stops the fill from escaping. This beauty is also medium loft and machine washable.
For those with allergies, switching quilts seasonally can help alleviate symptoms. During the spring/summer months, it's common for dust mites to thrive in bedding, which can worsen allergy symptoms. Choosing a hypoallergenic quilt option that's machine washable can help alleviate the worst of your sneezes and itches.
Our Hypoallergenic Down Alternative Quilts are medium warmth (suitable for all seasons), and mimic the warmth and breathability of down and feathers, without the allergens! Making them a perfect match for those who suffer from allergies.

And if you're a cold sleeper, our Luxury Quilts are also antimicrobial treated with Ultra Fresh™ (which inhibits the growth of dust mites, bacteria and mould) making them particularly suitable for allergy sufferers.
By alternating between quilts seasonally, you can also help extend the life of your bedding. Heavy winter quilts are subjected to more wear and tear than lighter summer quilts, so rotating your quilts can help distribute the wear and keep them in good condition for longer.

At the end of the day, whether or not you decide to swap your quilts for different seasons really just comes down to your personal preferences and needs. If you're someone who really feels the temperature extremes (or just lives in an extreme environment!), then switching your quilts for different seasons is definitely worth considering. On the other hand, if you're someone who likes to keep things simple or has limited space, then using one good-quality quilt all year round might be a better option. The choice is yours!
---