Posted by The Canningvale Team on 8th Aug 2017
Season 13 of The Block kicked off last Sunday, putting five teams and five dilapidated 1920s weatherboard houses on a $10 million block in the Melbourne suburb of Elsternwick. If the contestants are daunted by the idea of converting the currently roofless houses to highly sought-after properties in just ten weeks, they're not showing it, presenting ten (or nine and a half, if you take into account Hannah and Clint's unfinished bathroom tiling) wonderful rooms in the first week.
As always, the show's esteemed judges - Darren Palmer, Shaynna Blaze and the ever-dapper Neale Whitaker - were on hand to provide feedback, giving some excellent insights into what makes a great room. Here's a look at some of the tips they bestowed during week one, along with some ideas on how you can incorporate them into your own home.
Beds like texture
All five couples presented beautifully dressed beds in their challenge rooms at the start of the week. Each had neutral sheets and quilt covers - much like these beautiful cotton sets - and added interesting texture with throws, blankets and cushions. Perfecting the combination of add-ons for your bed isn't as easy as the contestants made it look, with combinations often looking either too random or too matchy-matchy. To make your cushions, blankets and throws work together well, try picking items of different textures and patterns from the same colour family or choosing a couple of different colours which tie in or compliment other features in the room. If you make a new purchase and - upon putting it on your bed - realise it doesn't quite work, most retailers (including us) offer refunds and exchanges for items in resalable condition.
Let your statement piece shine
There were a number of stand-out pieces in the couples' rooms this week, from Sticks and Wombats' handcrafted bedhead to Elyse and Josh's circular bath. The trick - as you might've heard the judges say – is to style the room to support the impact of your statement piece, regardless of whether it's an architectural feature, piece of furniture or work of art. Rooms that have too much going on make it hard for the eye to settle, ultimately detracting from the overall effect. Jason and Sarah's bathroom was a good example of this, their abundance of accessories and eclectic selection of towels working against them. Avoid the same fate next time you update your bathroom-ware by purchasing towels as a set. It's easy, often more economical and will help you achieve a more cohesive look.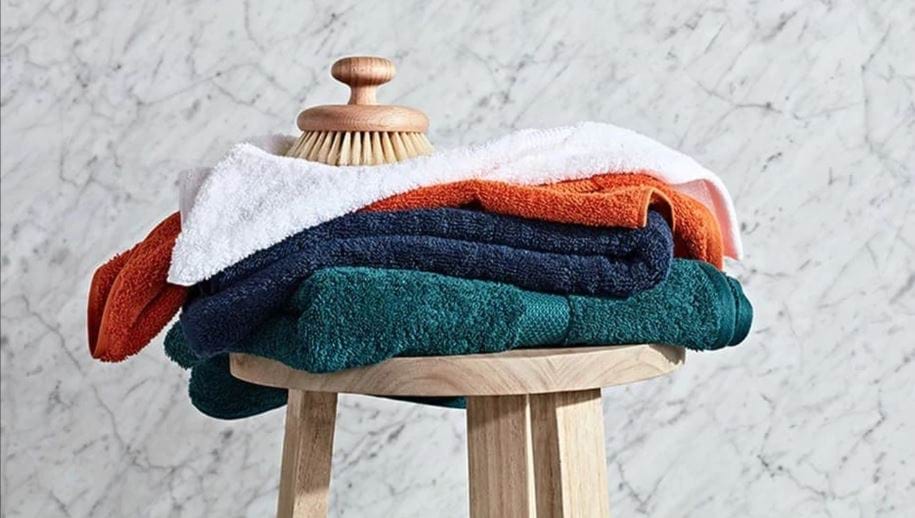 Greenery adds pop
Indoor plants and fresh bunches of flowers featured heavily in both the bedrooms and bathrooms this week, adding little bursts of life and colour to almost every room. If you're thinking of adding some greenery to your home, consider both your gardening ability and which plants are suited to the room or rooms you're looking at. Will you need a plant that likes direct sun or one that can thrive in artificial light? Will you be able to give a finicky but beautiful plant all the care it needs or should you opt for one that can withstand forgetful watering? If you have an unfortunate affinity for killing even the hardiest varieties, consider bunches of flowers or high quality artificial plants instead. They offer just as much impact and require very little maintenance.
Lighting can be pretty but should always be functional
While feature lights can sometimes be a master stroke, functionality should always be the primary consideration. Block-viewing regulars will have heard judges Shaynna and Darren harp on about this countless times over the years, berating pendant lights that hang too low, overhead bathroom lights that cast a shadow at the mirror, and bedroom lamps that shine blindingly at eye level. It's not just placement that can go awry either: the tone and brightness of bulbs should also be carefully considered. For example, if you find your bedroom lighting a little harsh, swap your current bulbs for those labelled as 'soft white' or 'warm white' to make the room feel instantly cosier. If you find your make-up always looks good when you apply it in the bathroom but too heavy when you move outside, switch your bathroom bulbs for those labelled as 'daylight'. It won't cost you much but it will make a big difference.
Symmetry is appealing to the eye
Is it just us or was Sticks and Wombats' bathroom a thing of beauty? Those skylights, the art-like feature tiles and matching copper towel rails on either wall gave us goose bumps; the whole room looking very much like something we'd have on one of our Pinterest boards. While this kind of symmetry can be hard to achieve without starting a room from scratch, there are things you can tweak in existing rooms to get a similar effect. Something as simple as centring your bed can make a big difference, especially if you happen to have matching bedside tables on either side. You can also consider buying art in two-part sets and hanging it side-by-side, whether it's a photographic series or a huge canvas split over two frames. Or, on a smaller scale, try rearranging the items on your coffee table or book case so they're displayed more evenly.
Style with things that add function
There were lots of great examples of this in this week's room reveals, from softly burning candles to cosy blankets and extra towels. Candles offer a double shot of functionality, adding ambience to a space and masking any unpleasant smells; blankets offer warmth and comfort; and extra towels a sense of luxury we usually associate with high-end hotels, where you find yourself with more of them than you know what to do with. After all, while it's always great if our homes look beautiful, the most important thing is they nurture our way of living and good styling will help us do just that.

Disclaimer: Canningvale Australia is not associated with The Block or the Nine Network.