Our story began over 40 years ago when Giovanni Prainito owned a share in a boutique terry towel mill in Bergamo, Italy.
Today, the Canningvale team continues to create the highest quality, on trend towels, for your enjoyment today, tomorrow and for many years to come.
Making luxury attainable, sustainable, through our dedication to producing premium quality products that last, our committed customer service & support and our unique Italian heritage and expert craftsmanship.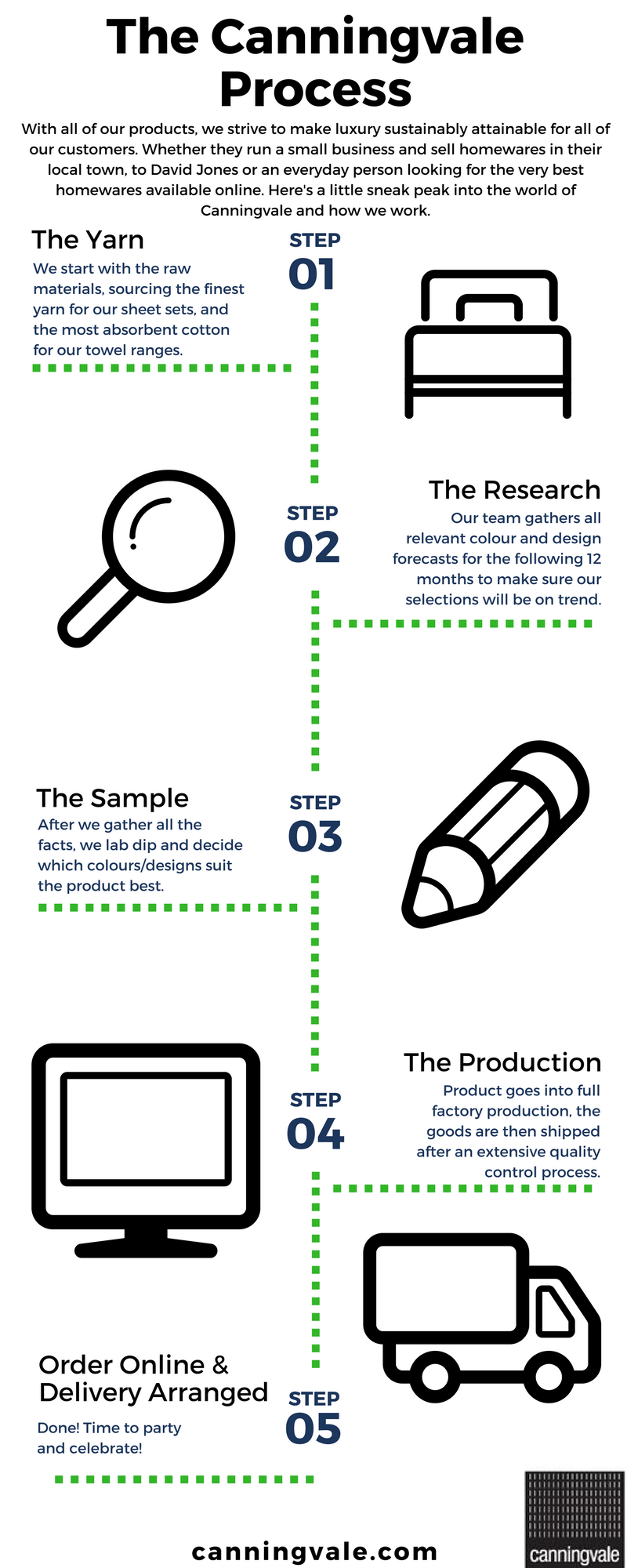 Since its inception, Canningvale has been a strong and committed advocate for sustainable textile solutions and environmentally sound manufacturing practices. Our mill in Perth was the only Australian towel mill to be awarded the Oeko-Tex Standard 100 accreditation. To meet this standard, a textile mill must not use any chemical or substance that could be deemed harmful to humans or the environment. This accreditation also extends to the correct disposal of effluent for the protection of waterways. All Canningvale products (towels and sheets) are still made under Oeko-Tex Standard 100. Given that most of what can be bad or harmful in textiles occurs in the manufacturing process, ask your favourite retailer if their products are made to Oeko-Tex Standard 100.
Most of Canningvale's towels are made with the very best 100% combed American Upland cotton yarn which is grown all over the world, including Australia. It's staple length is anywhere between 26 - 32 millimetres. This variety of cotton comes in combed or carded quality, it can also be Ring-spun or open ended.
If you're wondering what the difference between Ring-spun Cotton and Open-end yarn, is, essentially, Ring-spun Cotton in a finished towel is much softer to touch and an overall stronger yarn which last's longer and holds the dye colour better. Open-end yarn can have a harsher feel, if not treated correctly, however it is hard wearing and durable, with excellent absorbency due to the hollow structure of the yarn, this can be used for the base of a towel.
Canningvale towels are always made with Ring-spun cotton in the pile and Open-end yarn in the base, so the consumer gets the best of both worlds! This enables our towels to have a soft and comfortable feel, with a nice drape and no static electricity build up. Another unique part of the Canningvale manufacturing process is our twin needle stitched side seams, this provides extra strength and longevity for our towels by preventing hem's bursting open and fraying.
Canningvale towels can absorb up to 20% of their own weight before they feel damp at all, and in an event of an emergency absorb 24-27 times its own weight! Being 100% Cotton they are Hypoallergenic, meaning they will never irritate sensitive skin.