Posted by The Canningvale Team on 8th Nov 2019
Who doesn't start to feel a green complexion coming on when they scroll through a feed and are confronted by every perfectly styled and coordinated bedroom, studio and 'contemplation space'? Why do we have so much junk in here? Why is the bed frame misc. metal and the sheets moth-eaten? When will that end table finally meet its end?
Minimalism and fashionable un-tidy-ness, moccasins and throws and decorative cushions, a bead head re-purposed from an old shipping yard boat in which the captain could barely part with it because he'd spent 40 years on the sea with the old girl but now he's giving it to you because drama, made of light driftwood absolutely screaming The Hamptons. Why does Pinterest make everyone's bed look like it fell out of a vogue living magazine, what gives?!
"Oh, this old thing? This foot stool? It was Jackie O's; yeah she sat on it once - made of moleskin. Very rare." - literally everyone but you.
"The sheets are comfy, why do we need a new bed?"
"Flannelette your mum gave you when you were 10 is not comfy. You're 30. It's a fossil."
In three steps we can show you how to have a bed overhaul.
*Instagram likes not included.
Step 1: Start at the base
Like with everything in life if you haven't got a solid foundation the entire thing will fall apart, you'll end up having to fix the foundation eventually when it does. Start at the base.
Now, thankfully, beds no longer require a bed frame or headboard and if you're feeling like the room is messy and cluttered and too busy the first thing you can do is lose the frame. You'll be surprised how much room it creates and how much it opens and de-clutters, it also means you don't have to coordinate anything else in the room with the frame. Those taupe colored sheets you like? You no longer have to force a match with cherry redwood framing. (You'll also have fewer injuries incurred by walking your shin into the side of the bed).
Decide on a palette, if you've lost the cherry wood frame and you're going for taupe sheets, go for either lighter accents and make the taupe sheets the stand out feature. Or go one shade darker than the sheets to make the bed look warm and inviting. A good plan for a palette is to keep it within 5 or so colors and all the same tone. Lost? Here is our Pinterest board - completely dedicated to color.
Now on the base of your bed and your pillows you'll need pillow and mattress protectors. It'll extend the life of your mattress and pillows and it'll mean you won't have to wash or air out things as often. If you're in the colder end of the year or you're stingy on heating, or you're better half bought the mattress and it's a concrete slab - Apply 1 fluffy Mattress Topper. You will be absolutely blown away by the difference, adding cushioning to flat and firm mattress will just take the edge off whilst maintaining whatever Posturepedic qualities it was originally purchased for.
Otherwise skip ahead to your sheets; you will need 1 fitted and 1 flat. I myself have been converted - I used to believe there was no real need for a flat sheet, and then summer happened. My quilt was too heavy and nothing at all was, well, not enough. A full sheet set should include 2 pillowcases, a fitted sheet, and a flat sheet. In the summer months go for light and breathable, in winter heavier and soft. I would advise for the first layers of sheets go for a neutral color or pattern, stay away from loud sheets. 80% of the time they are covered by a quilt or blanket and your face will have to be in them. I'm less than confident bright pink fluoro will produce a quiet and restful night's sleep.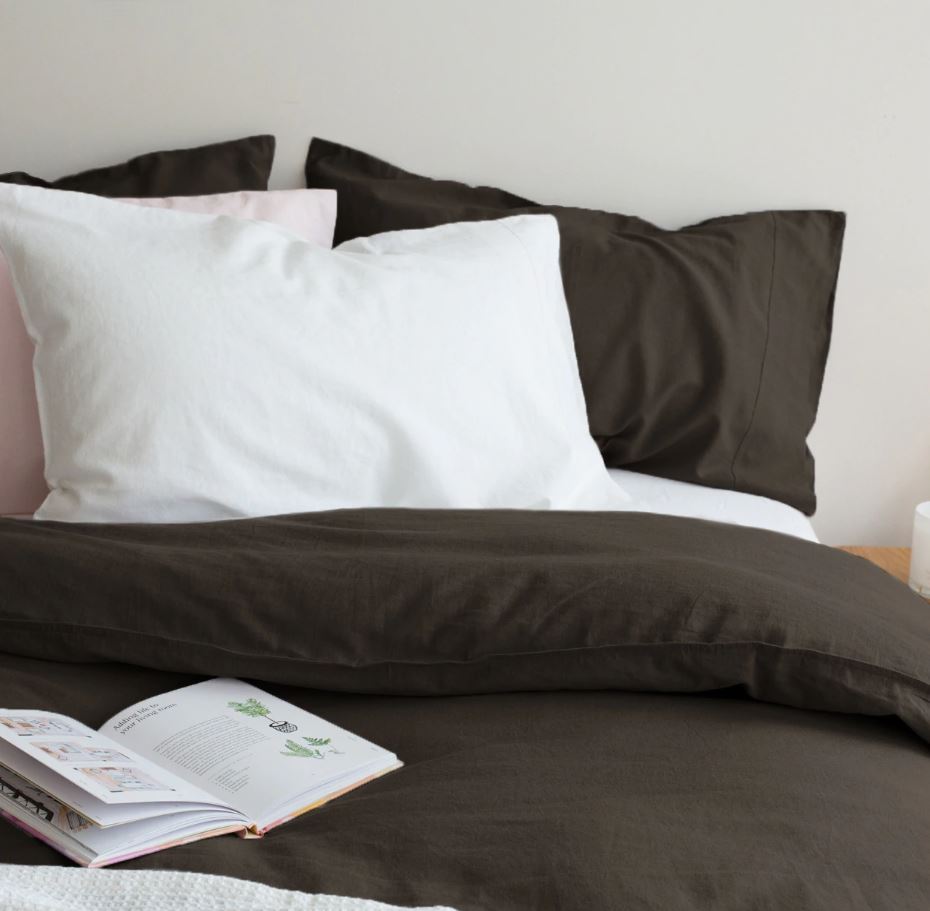 Step 2: Add a beautiful quilt cover
Your quilt cover should do two things. 1. Cover your quilt. 2 finish your bed. Whether you're going for a lived-in rustled finish or a sleek and neat finish you're not going to be able to do it without a quilt cover, or a quilt for that matter. I'd recommend when choosing your quilt cover to go for contrast. If your sheets are taupe perhaps a crisp white, or if you've got white sheets a deep blue. Also if you're wanting to really rack up the likes focus on textures. There are no rules saying you can't have cotton sheets and a linen cover set, it's still contrasting even if they're both white and pure cotton is amazing to sleep on, linen is a delight to sleep with.
Believe it or not, there are different types of quilts, duvets or doonas. There are warmer ones, lighter ones, fluffier ones, natural ones and synthetic ones. To each their own - personally, I prefer synthetic, with a cotton outer. Better for allergy sufferers, easier to wash and the synthetic nature of it means it's lighter in weight but lofty and very warm. Again no rules in any book saying you can't have more than one quilt. Having more than one means that you're increasing the longevity of both. If you find it difficult to sleep without a doona, but find summer nights a real struggle you'd definitely want a lighter quilt. And in winter heavy, warm and soft are the key features needed for any bed.
Much like a sheet set, quilt covers often come in sets which include the quilt cover and 2 pillow cases. If you look a little closer at the pillow cases you'll notice the design differs slightly from a pillowcase belonging to a sheet set. This means however you now own 4 pillow cases, the simple answer really, add more pillows! I have two pillows with a medium loft and two with a firm one, as someone who really doesn't need a desk and does the majority of work laying on a bed the firmer pillows are a godsend to my back. Though the firm pillows can be too firm when trying to sleep, so I have the plushier medium loft ones for bedtime. Also, means every pillow case is accounted for and if you've gone for contrast you'll have contrasting pillows to really make an artwork out of your bed.
Step 3: Furnish with unique décor
This is the fun part, where you can showcase your individuality and go a little crazy! Cushions and throw pillows (because 4 aren't enough) are a terrific finishing touch to any palatial bed setup. Choose them in a completely different color, but still keeping to your color palette. For example, if the sheets and bed are deep blue and white go for a loud mustard it'll be eye catching and will tie in the rest of your room.
And now your bed is ready for the world to see! #instafamous #goals. Follow us on pinterest for more inspiration.