Posted by The Canningvale Team on 23rd Dec 2021
Believe good things come in spall packages? 💝
So do we! ✨
But if you live in a small space, or have a small room that feels like a coffin no matter how you style it, here are some hacks for getting the most bang for your styling buck.
Does clutter make your heartrate start to flutter?
Then minimalism might be for you.

By keeping things simple and focusing only on what you need, you not only open up the space (so is perfect for making smaller rooms appear larger) you can be really creative with the way you style a space.

Focus on clean lines, one statement piece per room, and simple accessories with a monochromatic palette.

Bonus points: minimalist interior design not only saves you money in the long run, it also requires minimal packing and unpacking when/if you need to move in the future 😉
---
Light and bright doesn't always mean white. While dark colours will make a space feel cramped, if you find white too plain you can use other neutrals. These are simply colours that feel understated, and create a sense of calm, balance and harmony, while fitting in seamlessly with the rest of your decor.
Neutrals can really open up the space. Try muted shades of:

Purple

Green

Blue

Cream

Grey

Yellow

Pink

Orange
---
No-one likes fluorescents. They're bad for your eyes and they draw harsh attention to how cramped smaller spaces can be.

Try us dimmer lightbulbs in your overhead lights, and pop some extra lamps or sconces around the space to create a calm and cozy atmosphere.
Candles also help create a soothing and serene mood.
---
Mirror mirror on the wall

Add a feature mirror. It will dramatically open up the space by giving a little extra dimension to your room 🤖

Bounus points if you add a lamp in front of a mirror, as the light will bounce back and create the illusion of more space.
---
Is your biggest home owning dream to have a linen closet?
We hear you, because, let's face it, our clothes shouldn't have to share space with towels and bedding 👗
Try making your own shelves by getting ladder storage units that lean up against walls, and then seperating your towels and linen into wicker or wire baskets.
---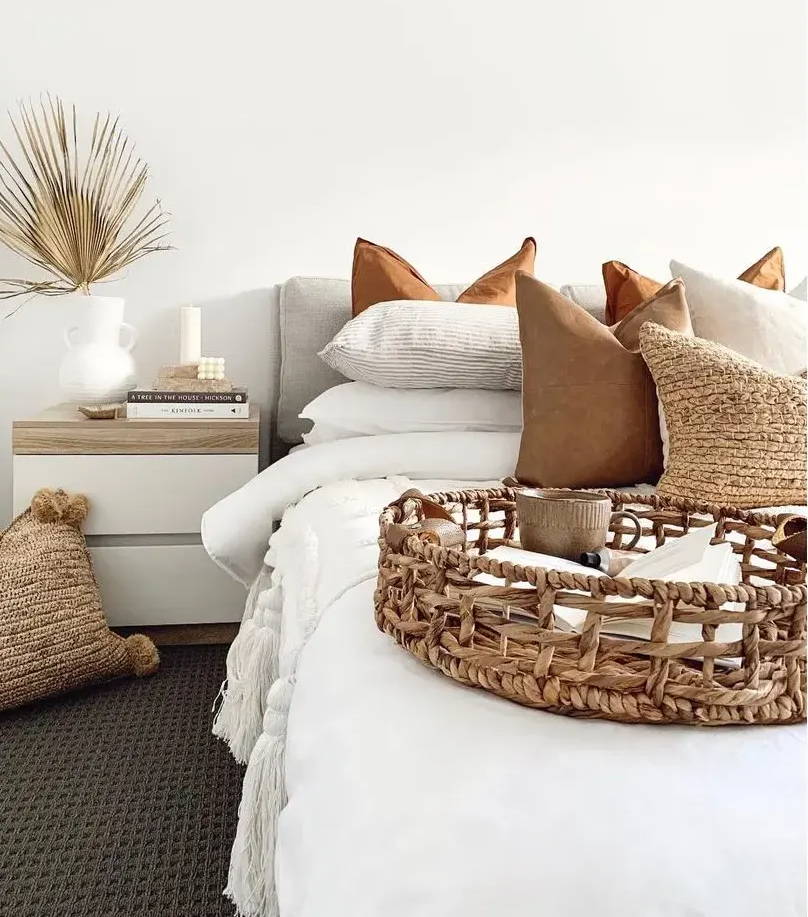 Adding texture to a room gives it a little something extra.

Adding cushions to a bed or couch in a range of styles, colours and textures (especially if you 'karate chop' them like in the image to the left, helps the statement piece like the bed or couch feel fuller, so you can pair back your other accessories and have more room to move.
---
How'd you go? Find the perfect solution to creating extra space in a smaller room? Don't forget to share your secrets with us @Canningvalelove