Posted by The Canningvale Team on 4th Jun 2020
When a trend remains popular for more than a decade we start to ask 'is it still a trend'? When it remains popular after more than eight decades, like in the case of Scandinavian design, it's safe to say the trend has become a classic design style. Scandinavian design, or Scandi, doesn't refer to a single time period or place. Scandinavian design describes a culture, a people and a way of living first and foremost.
The birth of Scandinavian art
While the modern Scandinavian design movement was active as early as the 1930s, it began to gain global recognition and popularity during the 1950s and 60s, resulting in a strong and lasting presence in today's culture almost a century later. Although Scandinavia officially refers to the three kingdoms of Denmark, Sweden and Norway, Scandi design incorporates designers and elements from Iceland and Finland as well.
The continuing prevalence and popularity of Scandi design has been attributed to Nordic countries boasting some of the top design schools in the world, along with a continued investment in education. With higher education free in most Nordic countries, young designers are encouraged to explore and create, borrowing from existing designs while incorporating modern elements. Awards such as the Lunning Prize, which was awarded to outstanding Scandinavian designers between 1951 and 1970, were instrumental in making Scandi design internationally recognised.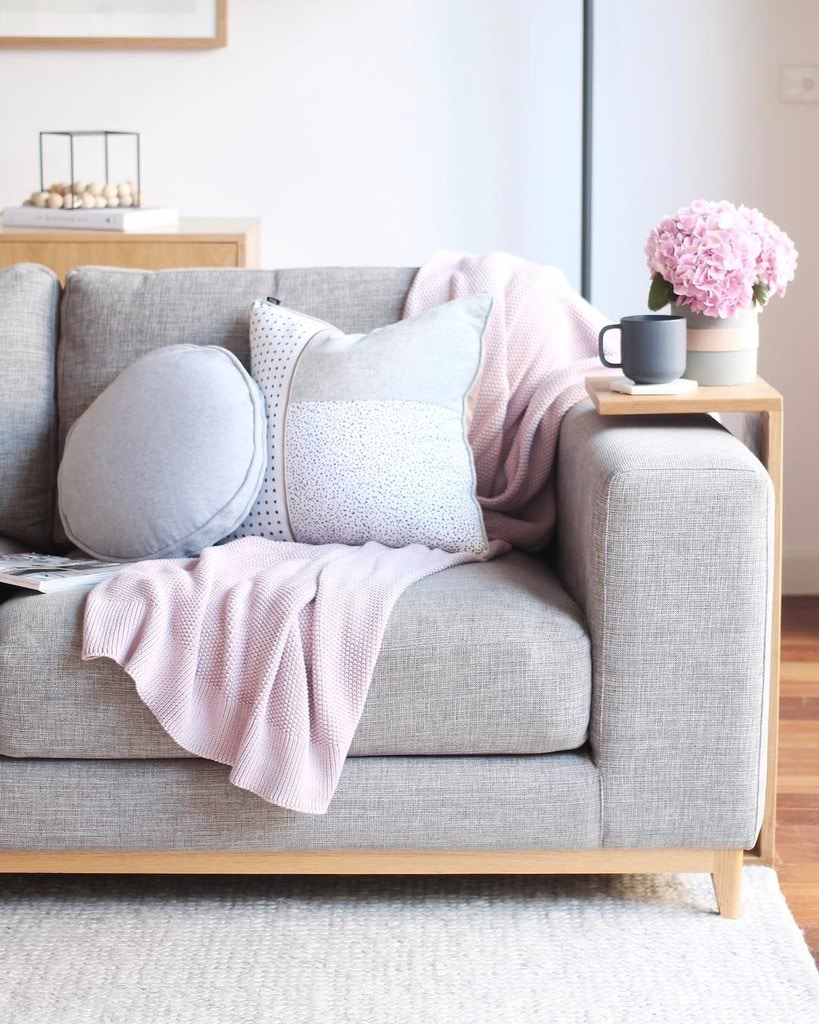 Image via @heidi_lisa_loves
How is Scandi different to modern decor?
Scandinavian design belongs to the school of modernism, a movement marked by a focus on functionalism and the simplification of forms. It also seeks to humanise design through the use of natural materials, such as wood, leather and hemp, while making these designs available at an affordable price. Nordic design is also influenced by a connection to nature, combining abstraction and natural shapes and natural materials.
A Scandi aesthetic prioritises functional design, through the use of natural materials, excellent craftsmanship and affordability. The idea that beautiful and high-quality products should not just be a privilege exclusive to the wealthy is a key motivation borrowed from preceding modernist and functionalist design schools.
Nordic furniture has had an understated and refined quality that continues to draw people back. Marked by pale colours, natural materials and lean and leggy designs, the aesthetic is often seen as a reaction to the region's short days and long winters, which call for bright, practical interiors.
You may be familiar with classic 1950s and 1960s Scandinavian furniture such as Eero Aarnio's Ball, Arne Jacobsen's Egg and Eero Saarinen's Tulip. While the designs are literally decades old, they remain in production today due to their practicality and modern aesthetic.


@google images
While there is significant overlap between Scandinavian and mid-century modern design, the main differences are often seen in the choice of lighting and colour palette. Mid-century modern interiors tend to explore darker hues and work just fine in low light, whereas Scandinavian interiors aim to maximise the lightness in a room.
Why does Scandi remain popular?
The purpose of Scandinavian design is to improve daily life. When applied to interior design, this means furniture should be comfortable and practical and exist to enrich the daily life of its owner. This focus on functionality can be seen in the Scandi movement's influence on other areas of design, including in fashion.
Writing for British Vogue magazine, Melene Birger recently interviewed Christiana Exsteen, creative director at one of Denmark's prominent fashion houses, to discuss the enduring appeal of Scandi style and its lasting influence on fashion.
"A Scandi look is laid-back but at the same time sophisticated. It's uncomplicated and easy to wear. Scandinavians are very good at lending their own twist to their look, like with layers." This could not be truer for current Scandi design with its ease of use and clean simple lines that ooze elegance and sophistication. The current season has a focus on statement and contrasting textures often achieved through layering. For example a linen quilt cover set, with a heavy woven blanket and leather look throw cushions.
"A great coat, a great pair of jeans, a great selection of knitwear, and lots of basics to wear them with. It's a great foundation to have, to then layer seasonal pieces on top." Translated into interiors this can mean basic white sheets, neutral coloured foundation pieces that tie a room together, with the use of natural material and fibres to draw interest.
Exsteen goes on to discuss how interior design and fashion influence each other and how Scandinavian design is influenced by daily lives and the idea of 'home': "With kids, a career, and social gatherings all a part of women's lives here, clothes have to help us out, while always being elegant and within a reasonable price point. Fashion came after furniture, and since home is a huge part of growing up here in Denmark, it always influences our designs."

How to DIY Scandinavian Interior
Magazines, design blogs and stylists often make Scandi design look unrealistically neat and expensive. Images showing whitewashed walls, natural wood floors, dramatic pendant chandeliers and rooms flooded with light, can be intimidating and make it easy to feel overwhelmed when approaching Scandi design. Like most images on the internet however these representations aren't always realistic. For your average Joe wanting to try the aesthetic at home, the key point to remember is that 'less is more'. This mantra is twice as important when it comes to accessorising. One of the most common mistakes newbie's make when decorating is going overboard, so remember that restraint and balance are crucial.
When attempting Scandi design, discipline and restraint are your best friends. Looking at Scandinavian furniture, which often feature long, slim legs, your first impulse can be to notice how easy it would be to store stuff underneath. Scandinavian design however has no room for clutter, which would ruin the lines created by the furniture's long legs. Storage should be incorporated into the design of a space rather than being an afterthought.
A common mistake in Scandi design is to incorporate too many pastel colours, so adding some high-contrast masculine elements is a good way to keep the room from looking overly feminine. This is where you can begin to play with textures, colours, and materials. If marble and copper are your Scandi essentials, consider complimenting them with a deep navy or dark charcoal, instead of a pastel pink or light grey, which will give you the same chic look but with much more depth. Try metal light fixtures and large mirrors to reflect light and create space where there might not be any, coasters or book stands for a small but bold accent.
Minimalism is the key to Scandinavian style
For more direct instruction property stylists Amy and Sara Chamberlain strongly advise de-cluttering, which we can tell you will be most of the battle. Once you've de-cluttered, try to pick a colour palette and avoid the temptation to introduce too many competing colours into the one space. They also suggest adding a touch of greenery to the room - just because you don't have Scandinavian woodlands outside your door doesn't mean you can't bring a touch of the forest inside.
Warm functionality, clean lines, expert craftsmanship and understated elegance is what Scandi design - and Scandi living - is all about. With winter ahead, now is the perfect time to try out the Scandi look for yourself. Armed with the knowledge of the Vikings on your side, and the restraint to only buy two copper candle holders instead of eight, you'll be spending this winter in a Nordic wonderland in no time.
To describe Scandi design and influence we must include all the elements under its umbrella: minimalism, mid-century modernism, functionalism, simplicity, nature, Nordic, accessibility, affordability, abstraction, durability, joy, colour, courage, stark, practicality, winter, de-clutter, neutral, light, disciplined, inspirational, purposeful, restrained, balanced, sophisticated, uncomplicated, understated, quiet, traditional.