Posted by The Canningvale Team on 12th Apr 2022
If attempting to style your cushions has you screaming into a pillow, here are our top tips to help you become a cushion styling guru.
1. Decide on your colour palette and theme

Before you get to styling, ensure there is a consistent theme that sets the tone for the room.

If you're mixing and matching your cushions, pick a colour, texture or theme to harmonises them; otherwise they'll be such a mess that the only good thing they'll offer you is a comfortable place to cry.
---
If you want your bedroom to feel like a haven that's all yours, and your living room to feel open and inviting, then, naturally, you'll style them differently.
In the bedroom, start with your pillows. These beauties are more about function than form (although we can also dress them up to keep them looking fabulous). Cushions keep the room feeling cosy, so should be styled alongside your pillows.
If you haven't already, try adding European pillows to your bed. To style, ensure they are the first layer (at the back of the bed, against the headboard) as they will tower over the rest of your pillows and cushions.
One neat trick is to 'karate chop' the pillow in the middle to give it more dimension. You'll find these beauties are great for working in bed (it's OK, we won't tell), reading before bed. or Netflixing in your PJs, as they are super comfy to cuddle up with.
You can then pop your pillows (ideally with pillowcases in a mix of the patterns on your doona and sheets) on the bed. You can then start adding your cushions.
For the couch, first choose a cushion you've fallen in love with. From there, have a look at what else will work well with it. To do this, think about the below.
---
We hate to give a lecture on texture, but we just can't help it 😁 🤗

Mixing and matching cushions with different textures adds dimension to any space. While they may not be a portal to the fifth dimension, 🤖 they keep the room from feeling flat.
---
4. Mix up the size and shape of your cushions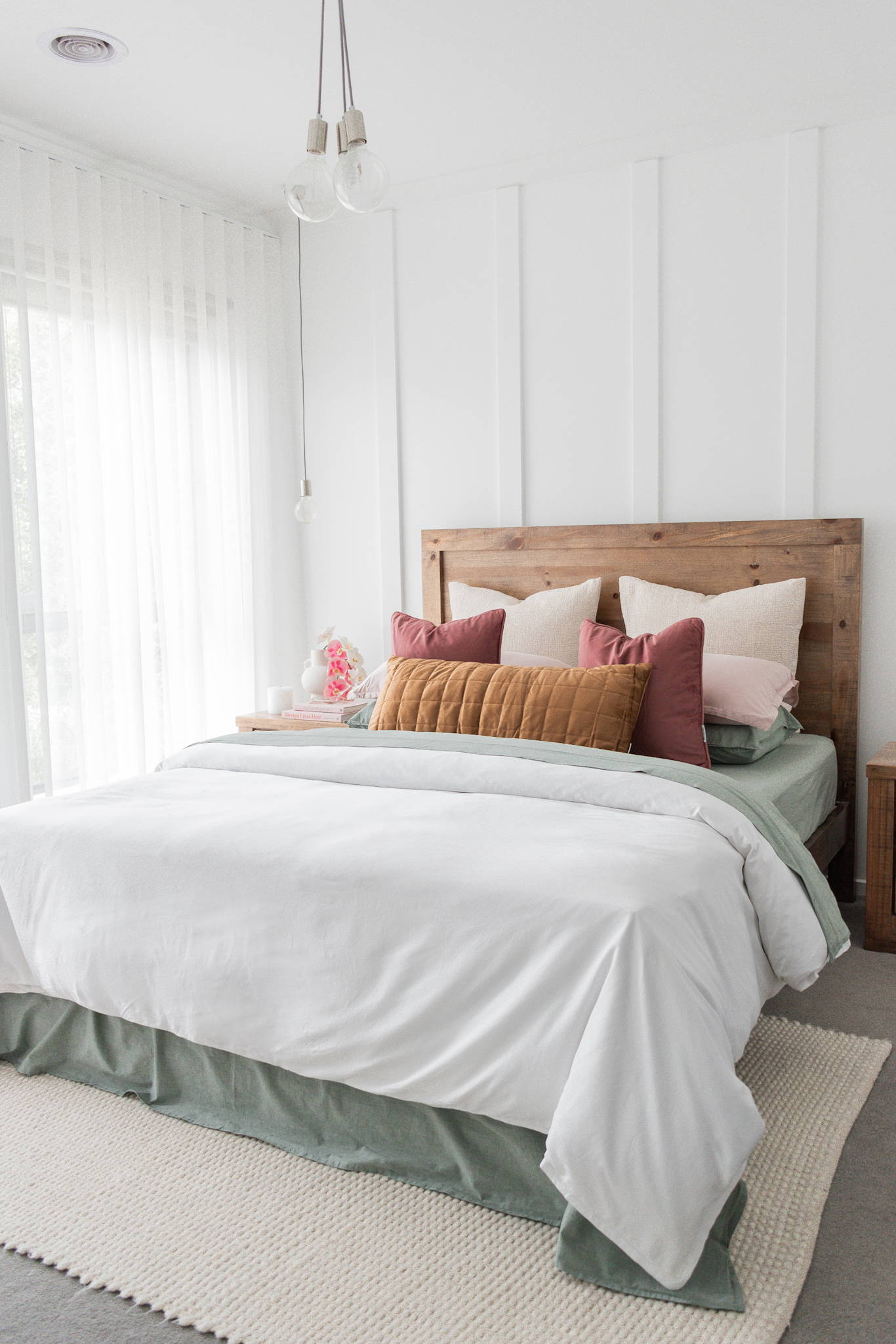 Play with heights and shapes. Just like it's boring to watch the same film over and over, if you do the same thing with the cushions in your living room you're going to get very bored very fast.
You want your guests (and yourself!) to relax and have fun in the living room, so be sure to have as much fun with your cushion selection, and play with different styles such as breakfast cushions (rectangle-shaped cushions), bolster pillows (cylinder-shaped cushions), lumbar cushions (a pillow designed for the lower back) and squares in different sizes.
---
There are a million ways you can do this - pair small cushions in front of large ones for a chic look, create some organised chaos if you live for boho style, or spread them evenly across the couch for a more modern look.
You can also part the couch down the middle and leave the centre space bare, with 3 cushions on either side, for a minimalist look. The choice is yours! But some basics to keep in mind are:
Stick to odd numbers - it's easier on the eye

Always place the biggest cushion to the back

Don't put the same texture next to each other - spread them out!

You want the cushions to make the couch feel more full and inviting (and oh so cosy) but don't overwhelm the space - it still needs to be practical to sit and relax
---
Styling cushions should be the cherry on top of the layering process, so enjoy yourself.
If all else fails, just toss them around and see what happens (they're called throw cushions after all!).
---
Don't forget to share your styling goals (and fails, we love a good laugh) with us over @Canningvalelove
---