Posted by The Canningvale Team on 11th Oct 2023
What makes the ultimate summer blanket? With a third of our lives spent sleeping, it's important to invest in the right layers that will stand the test of time.
Our cotton summer blankets have always been about comfort and style as well as being a handy, transeasonal layering piece. In a range of delightful colours and luxe textures, these are the summer blankets you'll want to know when the temperature spikes. Find the right summer blanket for you and your home.
Why is cotton the best type of blanket for summer?

Cotton is a material that is gentle, breathable, natural and easy-to-care for. It makes the perfect choice for weaving into blankets. It holds up well with repeated washing and is lightweight enough to use for summer when paired alone with a flat sheet, or heavy enough to layer under or over the top of a quilt in winter.
What kind of blanket is best for hot sleepers?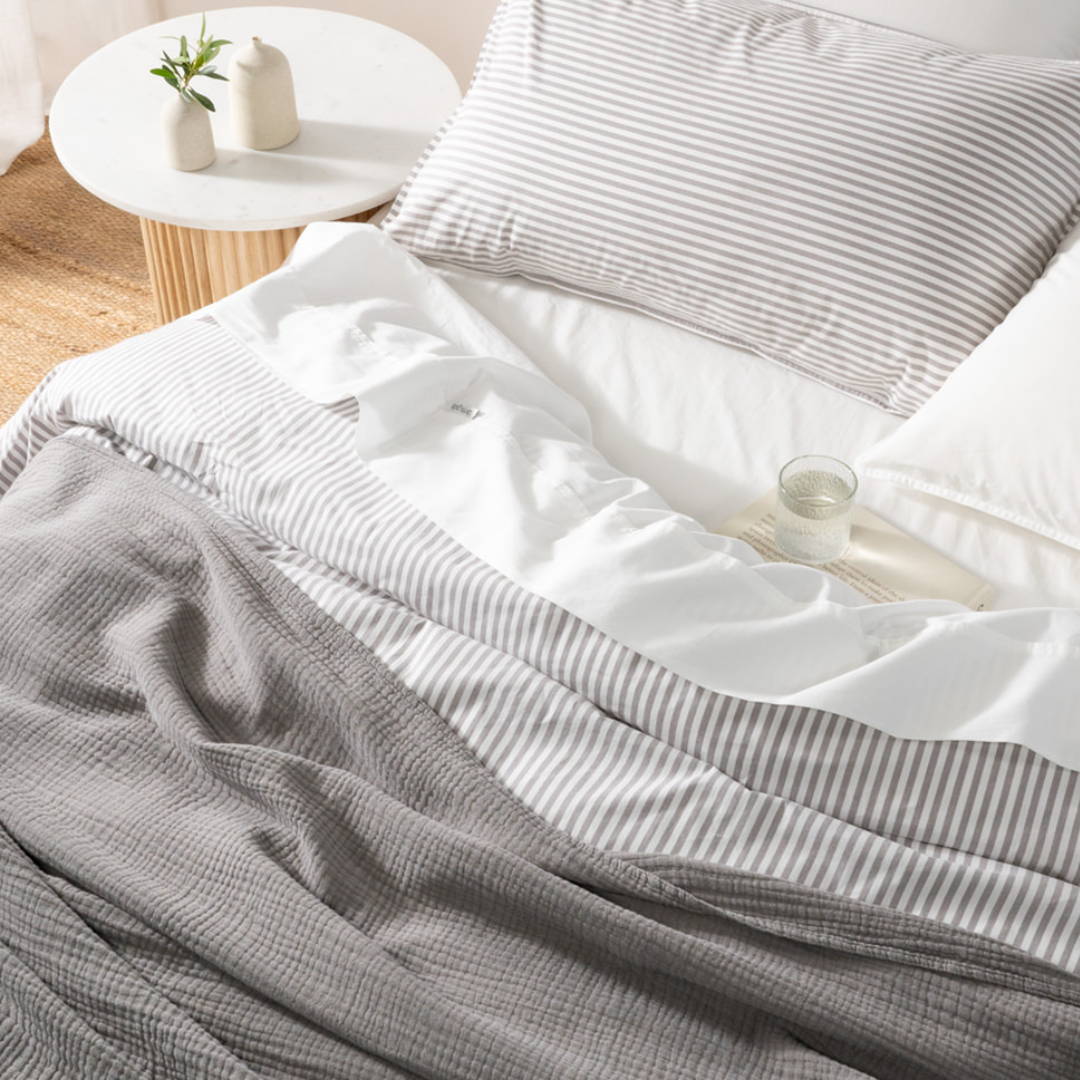 If you prefer lightweight layers, then Alla Turca will be your one and only.
Alla Turca is light and airy, making it the perfect summer blanket. With neutrals, mid-tones and a dark charcoal, colour and texture plays a big role in our Alla Turca bed throw.
Alla Turca adds a casual layer that's eye-catching and versatile, perfect for snuggling up on the couch.
Which blanket is best for all seasons?

Our Luxury Cotton Waffle blanket is one of our best-selling blankets, and there's a reason for it: its classic, timeless waffle pattern looks soft and inviting on the bed, without feeling overwhelming.
The waffle design provides a little bit of elasticity making it durable and great for stretching over the bed and tucking in at the sides.
Which summer blanket suits a beach house?

Our Corda blanket has a nautical-inspired texture to give you by-the-beach vibes and a relaxed look. It is slightly heavier than our Waffle blanket, but has all the things we love in a blanket: it's comfy, and made of 100% cotton, which makes it perfect for oceanside naps on the couch or a great night's sleep. It looks stylish no matter the forecast, as it can be paired with a flat sheet in summer or add warmth to a welcoming space on top of a quilt in winter.
Can you use a coverlet in place of a blanket?

Our Vintage Softwash Coverlets are the latest addition to Canningvale products, offering great texture for you to snuggle under the perfect layering piece. Coverlets offer a more contemporary and luxurious look to your bed instead of a blanket. If you're a hot sleeper, you can use the coverlet over your sheet. In the winter, you can layer the coverlet for warmth over your quilt cover.
Whatever your design and texture preference, Canningvale has a summer blanket for you should the thermostat start rising so you can keep your cool and style standard intact.