Posted by The Canningvale Team on 2nd Oct 2023
When the summer heat sets in, getting a good night's sleep can feel like an impossible dream. The sticky, sweaty nights can leave you tossing and turning, desperately seeking relief. But fear not! We have the solution to your warm-weather woes - the best bed linen fabrics that will keep you cool, calm and collected all night long.
Material Matters: Choosing Sheets That Let Your Body Breathe

Material Matters: Choosing Sheets That Let Your Body Breathe

When it comes to choosing the perfect sheets for summer, fabric should be your number one consideration. Sheets made from natural fibres like cotton, bamboo, or blends of the two allow your body to breathe, ensuring a comfortable night's sleep.
Breathability: Breathability is essential for a restful slumber, especially during hot summer nights. Our sheets are designed with superior breathability, allowing air to circulate freely, wicking away moisture and keeping your body temperature in check.
The Feel: We understand that the feel of your sheets is a deeply personal preference. Whether you prefer crisp, soft, or silky-smooth textures against your skin, we have an option for everyone!

Cotton Sheets: Lightweight and Time-Tested Comfort

Cotton Sheets: Lightweight and Time-Tested Comfort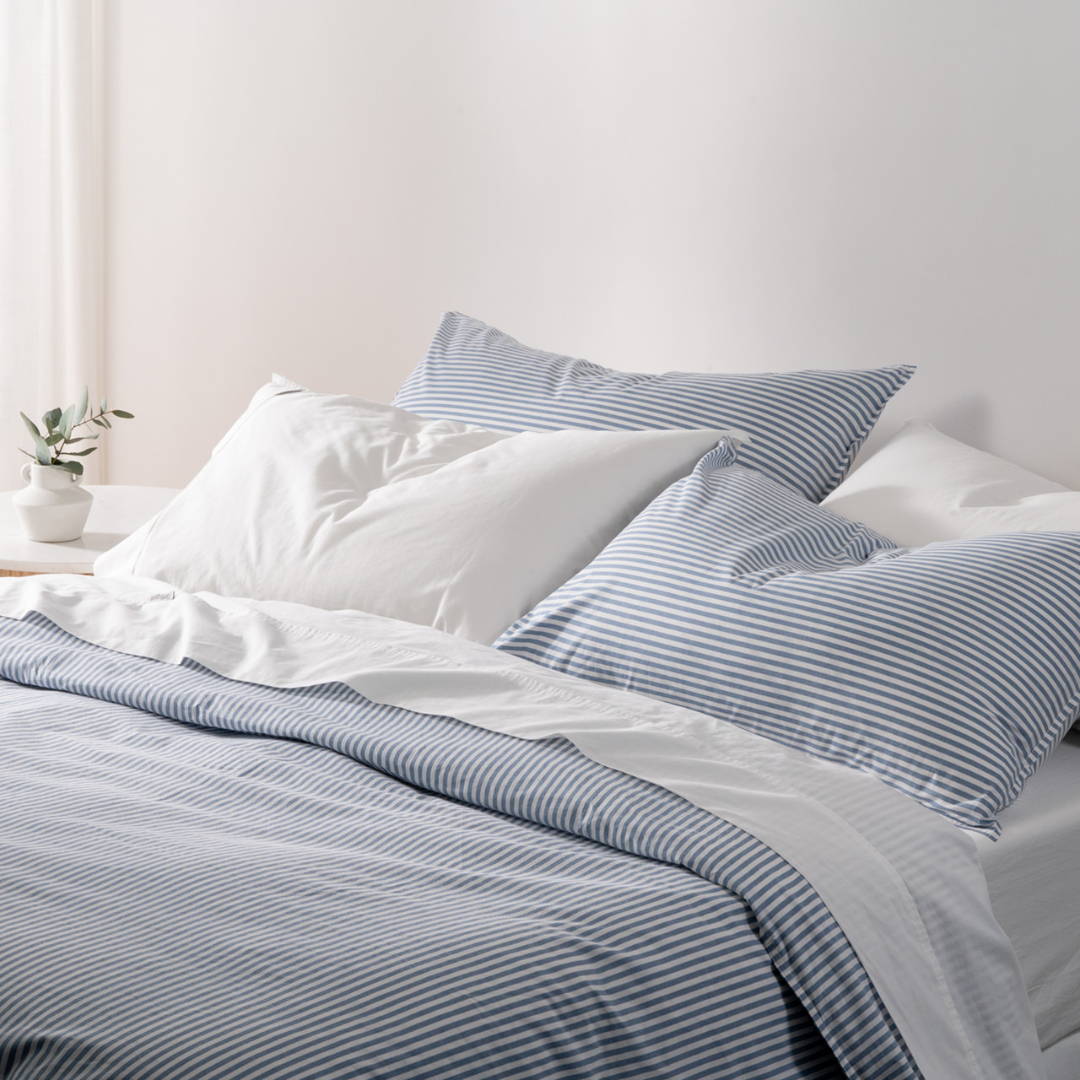 Cotton has long been hailed as a champion fabric for hot sleepers, and our Vintage Softwash and Modella collections take this to a whole new level. These sheets are specifically designed to be lightweight, breathable and incredibly soft, making them perfect for summer nights. The natural properties of cotton allow air to circulate freely, wicking away moisture and keeping your body temperature in check. No more waking up in a puddle of sweat - these sheets ensure you stay dry and comfortable throughout the night.

Ideal for: Classic comfort enthusiasts who love the familiar feel of traditional sheets
Benefits: Lightweight, breathable, and time-tested, cotton sheets are perfect for those who prefer a crisp, soft texture against their skin. They are easy to care for and become softer with each wash
Recommended for: Sleepers who prioritise the timeless charm of cotton and want a balance between comfort and durability
Bamboo Cotton: Exceptional Coolness and Bonus Sustainability

For a truly indulgent sleep experience, our Alessia bamboo cotton sheets are going to be your new BFFs. Alessia is light to medium weight, making it perfect for all year round, great for both hot and cold sleepers. Bamboo cotton is renowned for its exceptional breathability and silky-smooth texture. It feels cool to the touch and effortlessly glides over your skin, providing a sensation of instant refreshment. The natural moisture-wicking properties of bamboo ensure you stay dry, while its breathability guarantees proper airflow, regulating your body temperature even on the hottest of nights.

Ideal for: Sleepers who crave a lush, eco-friendly sleep experience with advanced cooling technology
Benefits: Alessia bamboo cotton sheets offer the best of both worlds – the breathability of bamboo and the softness of cotton. They are exceptionally smooth, cool, and moisture-wicking, making them perfect for hot sleepers
Recommended for: Those looking for a blend that combines the feel of cotton with the cooling properties of bamboo, creating a harmonious balance of comfort and temperature regulation
Bamboo: Luxury & Comfort in Every Thread

If you're looking for the ultimate blend of luxury and functionality, our Lustro bamboo sheets are second to none. Bamboo sheets are a hot sleeper's dream come true. They are not only incredibly soft but also possess remarkable temperature-regulating abilities. Lustro bamboo sheets are super lightweight, airy, and drape smoothly, creating a cocoon of comfort around you. They remain cool to the touch, ensuring that you stay blissfully relaxed even when the temperature rises outside.
Ideal for: People seeking a luxurious silky, cooling touch
Benefits: Lustro bamboo sheets are exceptionally soft, naturally hypoallergenic, and possess superior moisture-wicking properties. Bamboo sheets are known for their exceptional breathability, making them the ultimate choice for hot summers
Recommended for: Individuals who want a premium, eco-conscious option that provides unmatched coolness, silkiness, and environmental sustainability. It is also perfect for those with allergies and sensitive skin
In the end, your choice of sheets depends on your personal preferences, budget and the sleep experience you desire. Whichever you choose, you can rest assured (literally!) that you're investing in your best, most comfortable night's sleep yet.