Posted by The Canningvale Team on 5th Mar 2021
Make the most of the warm weather and long evenings with an alfresco dinner. Practicing nutritionist and Adelaide food icon @pheebsfoods serves up some creative inspiration on our Cucina tablecloth.
"CHARCUTERIE BOARD IS PERFECT FOR AN EVENING SESSION WITH FRIENDS. A SELECTION OF CHEESES, SEASONAL FRUITS, NUTS AND DIPS PLEASES EVERYONE. MY FIG AND ALMOND CRACKERS ARE THE PERFECT CRUNCHY ACCOMPANIMENT TO HUMMUS, SOFT GOAT'S CHEESE OR BRIE. ONCE YOU'VE TRIED MY RECIPE, I HOPE YOU'LL NEVER BOTHER WITH EXPENSIVE BOUGHT CRACKERS AGAIN."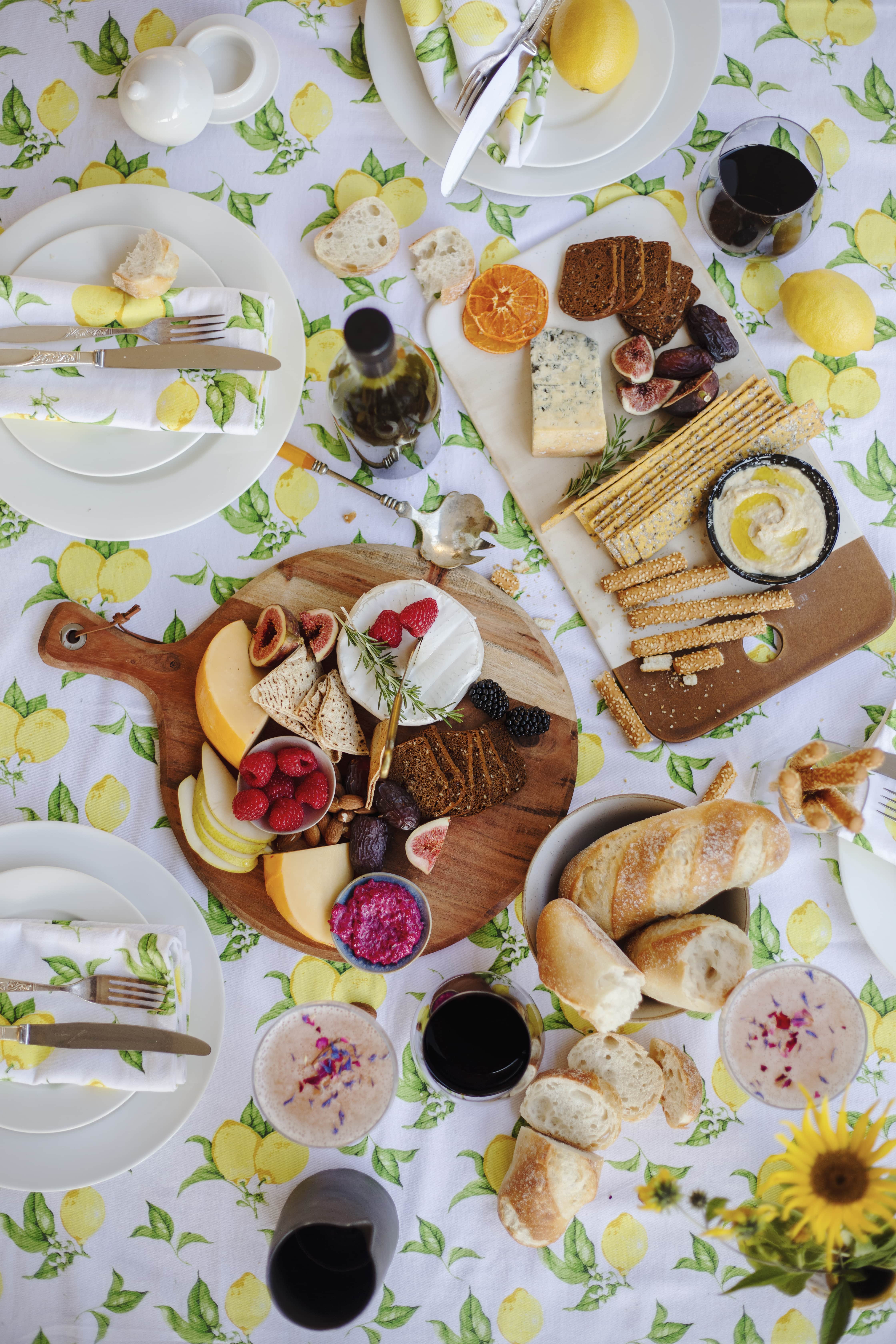 Tips to create a wholesome Charcuterie Board
Make your own crackers! *recipe below
Add plenty of fresh fruit and veg like carrot sticks and fresh berries or figs
Add dried fruits to eat alongside cheese
Make your own dips like hummus
Avoid too many salty processed meats and opt for proteins like boiled egg instead
Add a range of roasted nuts and seeds
Add dark chocolate for something sweet, or even dark chocolate coated nuts!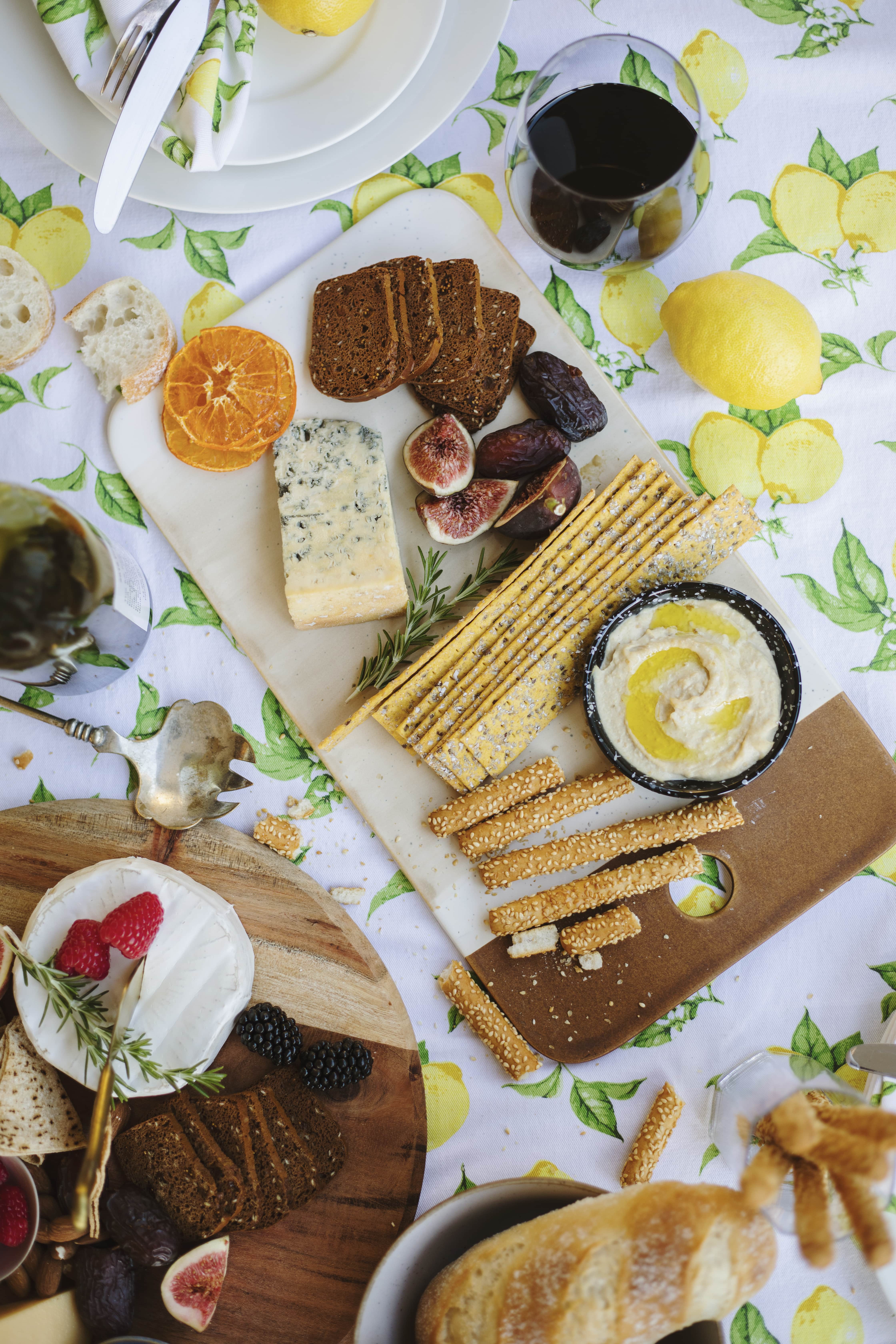 Homemade Gourmet Fig & Almond Crackers
Ingredients
1/2 cup milk kefir (or runny yoghurt)
2 tbsp olive oil
1/2 cup oat or almond milk ½ tbsp apple cider vinegar
3/4 cup whole spelt flour
1 tsp bicarb soda
1 tbsp psyllium husk
2 tbsp coconut sugar
1/2 cup seeds (I used sunflower, pumpkin & flax)
1/2 cup chopped roasted almonds
1/2 cup rolled oats
1/2 cup dried figs roughly chopped
1/4 tsp cinnamon & ginger
Big pinch of salt
Method
Preheat oven to 170 degrees C and line either a small loaf tin or 2 mini loaf tins with paper
Combine the milk kefir, olive oil, ACV and milk in a bowl, whisk and set aside
Place all dry ingredients in a large bowl and stir to combine, add this to the wet and mix to combine, it will be quite a thick batter
Spoon the mixture into the lined loaf tins, using a spoon to spread it out evenly
Bake for 30-40 minutes or until a skewer inserted comes out clean, time will depend on the shape of your loaf tin so keep a close eye on it
Allow the loaf to cool fully before wrapping in cling wrap and placing into the freezer for 4 hours or overnight
Once frozen, preheat the oven to 140 degrees C and line two baking trays with paper
Use a shape serrated knife to slice very thin slices of the loaf and place onto the trays, they don't change shape so can be close together
Bake for 50 minutes, or until browned all over, they will become even crunchier as they cool!
Head to Canningvale's kitchen section.
Featured Products
- Cucina Lemons Tablecloth & Napkin Set
You Might Also Like
- Create the Perfect Guest Room