Posted by The Canningvale Team on 26th Jun 2018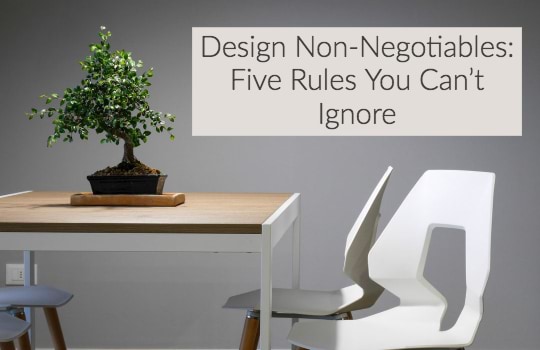 There are as many different takes on interior design as there are people, so trying to keep up with all the advice on the market is an impossible, somewhat foolish task. On the other hand, simply trusting your own instincts is also difficult, often playing out as an expensive and frustrating way of discovering what doesn't work. What you really need is a short, sharp list of non-negotiables to guide you to good decisions without boxing you in to someone else's aesthetic. Lucky for you, we aim to please. Here's that very list:
1. Don't fight the architecture
Great design is all about playing up a room's best assets and disguising its shortcomings, so you should always let the space influence your choices.
For example, if you have beautiful high ceilings, don't hide them behind dark paint and squat furniture; draw the eye upwards by painting them white and including stunning feature lights, feature columns, or grand-scale artwork.
If you live in a beautifully restored terrace boasting an original fireplace and intricate cornices, don't mute the character with crisp, modern furniture; amplify the warmth and charm with rich textures and vintage touches.
If it helps, conceptualise the design process as dressing your room like you'd dress your body, remembering all those times you've fallen in love with a dress for the way it looked on the model, only to find it didn't do you any favours.
In short, preconceived ideas aren't always the best fit.
2. Avoid trends
Trends are like shiny objects - enticing initially, but prone to losing their lustre all too quickly. Think of last year's millennial pink, or 2016's metallic finishes. They were everywhere at their peak, but fell out of favour overnight, simultaneously dating thousands of cafes, homes and boutiques around the country.
Another problem with buying into trends is the tendency to 'over-theme' a space. For example, when nautical was popular a few years ago, you could walk into almost any homewares store and find decorative anchor art, jauntily striped quilt covers, seagull-themed cushions, and portholes fashioned into mirrors. Putting all of these things into one room results in visual overwhelm and an off-kilter sense of style, replacing charm and personality with store-bought identity.
We've written a whole post on why you shouldn't fall in love with trends, so if you need more convincing on this point, give it a read.
3. Go slowly
Choosing the right elements for a room takes time, and any good interior designer will advise against rushing into purchases.
Start by nailing down a vision for the room, so you know what you're looking for. This should include a colour-scheme, as well as a feel or theme.
Once your vision is complete, start by searching for the room's hero piece (more on this below). Beginning with the focal point makes creating balance and cohesion a whole lot easier: the rest of your purchases or decisions become more about accessorising than starting from scratch.
Take the time to consider whether each purchase or addition is a good fit, by asking yourself whether it makes you happy, and if it's functional in the way it was intended. If you can confidently answer yes to both these questions, you've made a good decision and can move on to the next piece of the puzzle.
4. Always have a hero
Every single room in your home should have a hero piece; something that surprises, delights, or makes an impact. A hero piece is often the difference between having a nice room and a memorable one, acting as the je ne sais quoi of great interior design.
The room itself will help dictate what the hero should be. For example, your dining room hero might be a beautiful, hand-crafted wooden table; your bathroom hero might be a feature bath or antique mirror; and your hallway hero might be a stunning piece of art.
Once you have your hero sorted, the job of everything else in the room becomes letting it shine. If you have too many statement pieces, your attention will be split and the room will feel overwhelming.
If you're nervous about the idea of choosing a hero, this is where your intuitions come into play. A great hero piece will make you feel something and will linger in your mind long after you first see it.
5. Mix and match texture
Texture is key when it comes to creating interesting, inviting spaces. It allows you to layer items successfully and perfect even the most minimal colour schemes.
Adorn a leather sofa with a luxurious knitted throw, place a thick rug underneath a glass coffee table, or add wonderfully tactile cushions to a neutralquilt cover set. It may seem like a simple rule, but it makes the world of difference.