Posted by The Canningvale Team on 25th Sep 2020
Bedrooms, like people, come in all shapes and sizes. Yet your bedroom is your sanctuary and your personal getaway. It's the one room in your home where you can close the door and shut out the chaos of the day. If you want to turn your humble abode into a designer space, then this article will help you let your personality shine.
Simple tips like changing up& bed sheets, throw blankets and accessories are easy ways to elevate your bland bedroom and achieve a luxurious look. From cavernous master bedrooms to small spaces with big personalities, Canningvale has compiled 13 DIY tips to help inject love, personality and style into your bedrooms.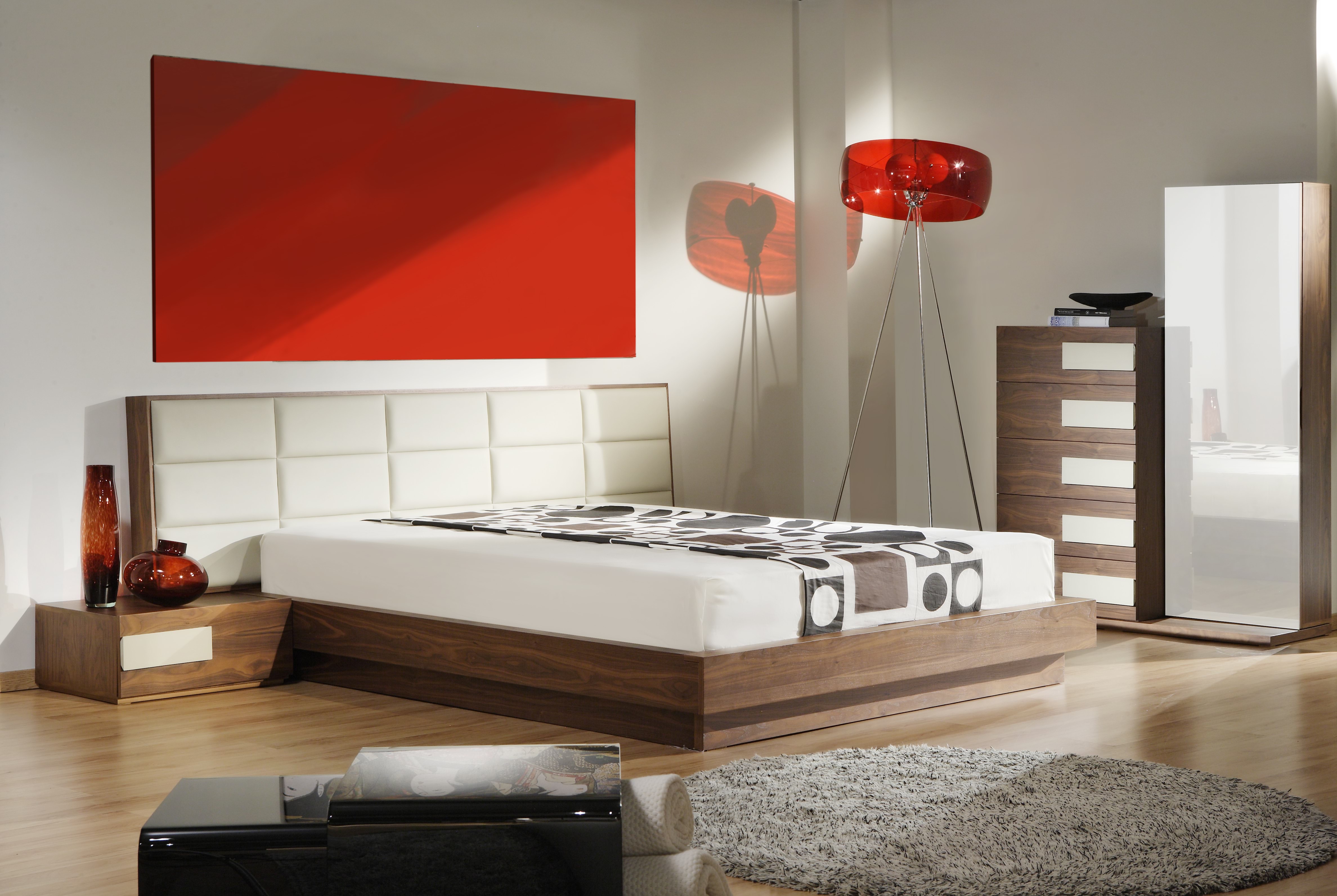 Decorating a large master bedroom
If your master bedroom leans more towards the master end of the scale, you're presented with extra design opportunities along with those extra square metres. If decorated improperly, a giant space can feel just as oppressive as a smaller one. And while most hours spent in your bedroom are spent sleeping, it doesn't mean your interior design should be a snooze. Here are our favourite tips to make big spaces feel cosy and look great.
Make your bed the centre of attention
The bed is the most important element of any chamber and there are quite a few ways to ensure it gets the attention it deserves. Start with establishing the correct size mattress as you'll want your bed to command the space. A good mattress is key to comfort, proper sleeping habits and healthy bones and joints.
From there, you can play with the design aspects. Oversized headboards and footers help create an imposing centrepiece and, if you've got the ceiling height, a four-poster bed frame is a great way to stop the show. These are effective methods to make your room feel more full without overcrowding it with additional furniture or clutter.
Design Tip: If your headboard has room for accessories, these can easily be swapped out to update the decor whenever you grow board. Otherwise an upholstered headboard can always be reupholstered with new patterns or fabrics to change up the vibe. This relatively easy trick is one you can manage at home.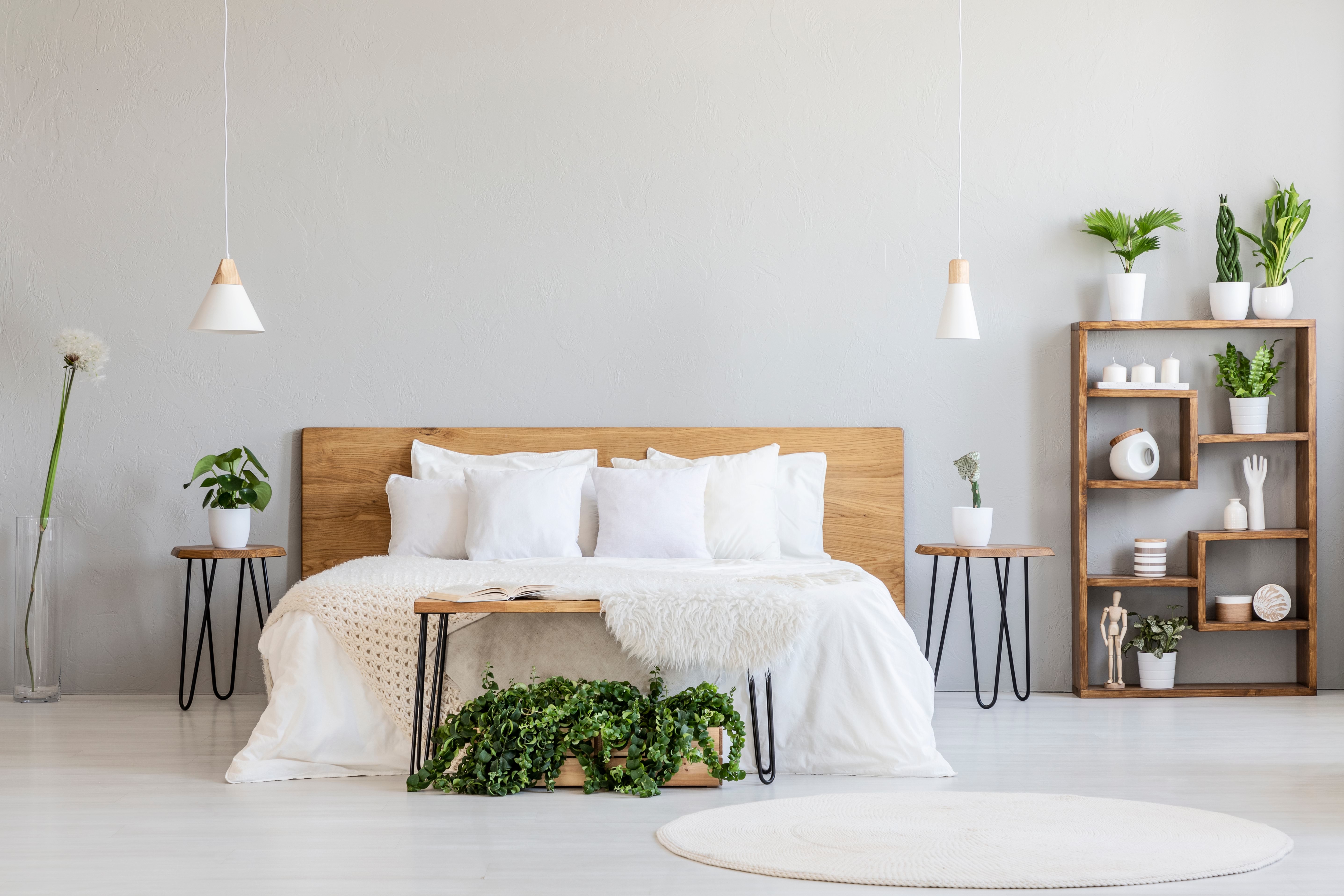 Make it multi-purpose
While there are some that say technology doesn't belong in the bedroom, room layouts or life requirements make that impossible. If you have the space - and the need - for a study nook or a sitting area, then perhaps your large master bedroom may be the perfect option.
Design Tip: Keep the space as far away from your bed as possible, so if it is work-related, you avoid feeling guilty about finalising that last bit of paperwork and can keep it off of your bed.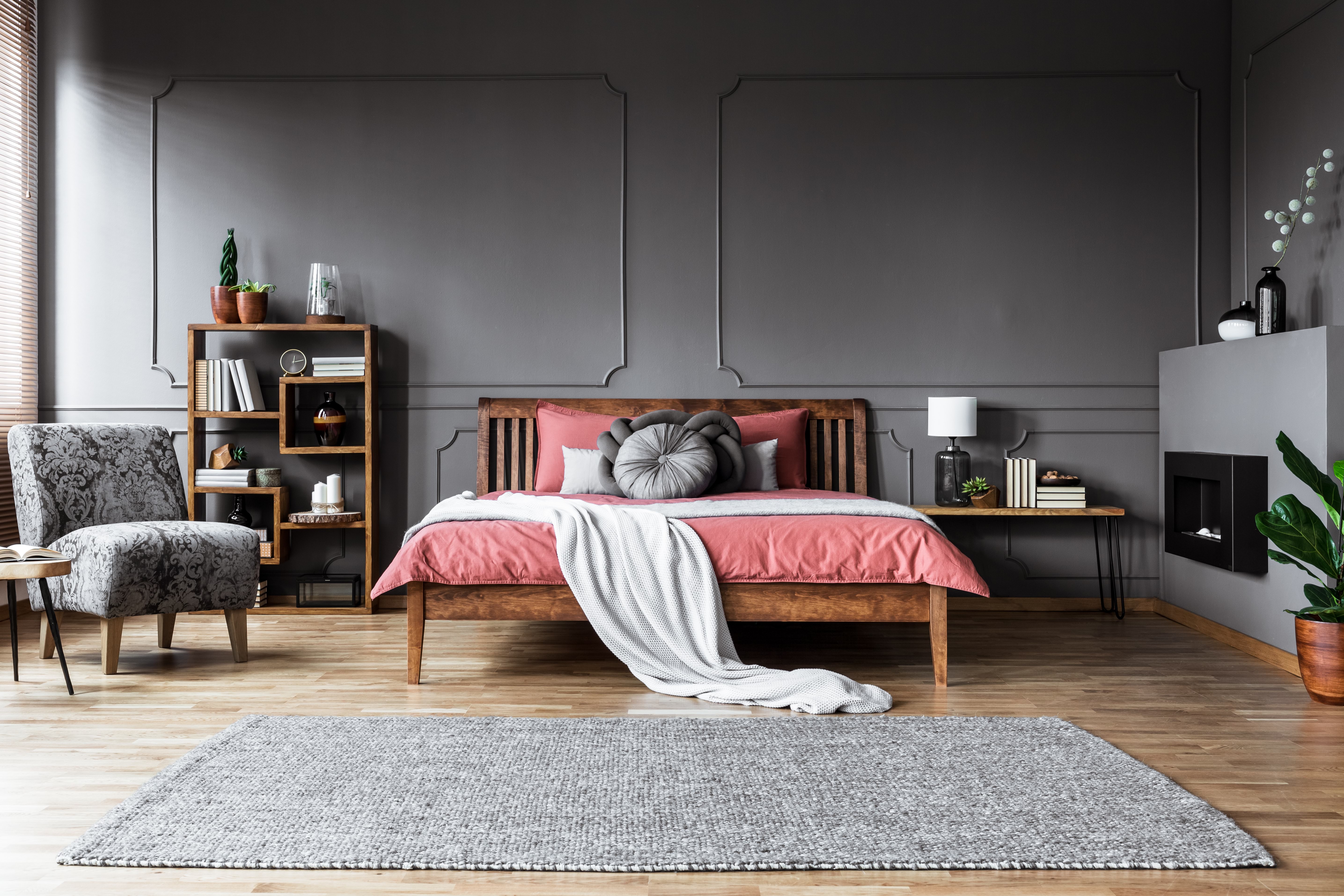 Transform your room with new bed linen
If you're not operating on that grand of a scale, there are other ways to make your bed pop. It's amazing what great bed linen can do to help transform a space. According to Forbes, changing your bed sheets is the easiest way to redecorate your room. As a focal point, your bed is a canvas which will set the tone for the rest of your space.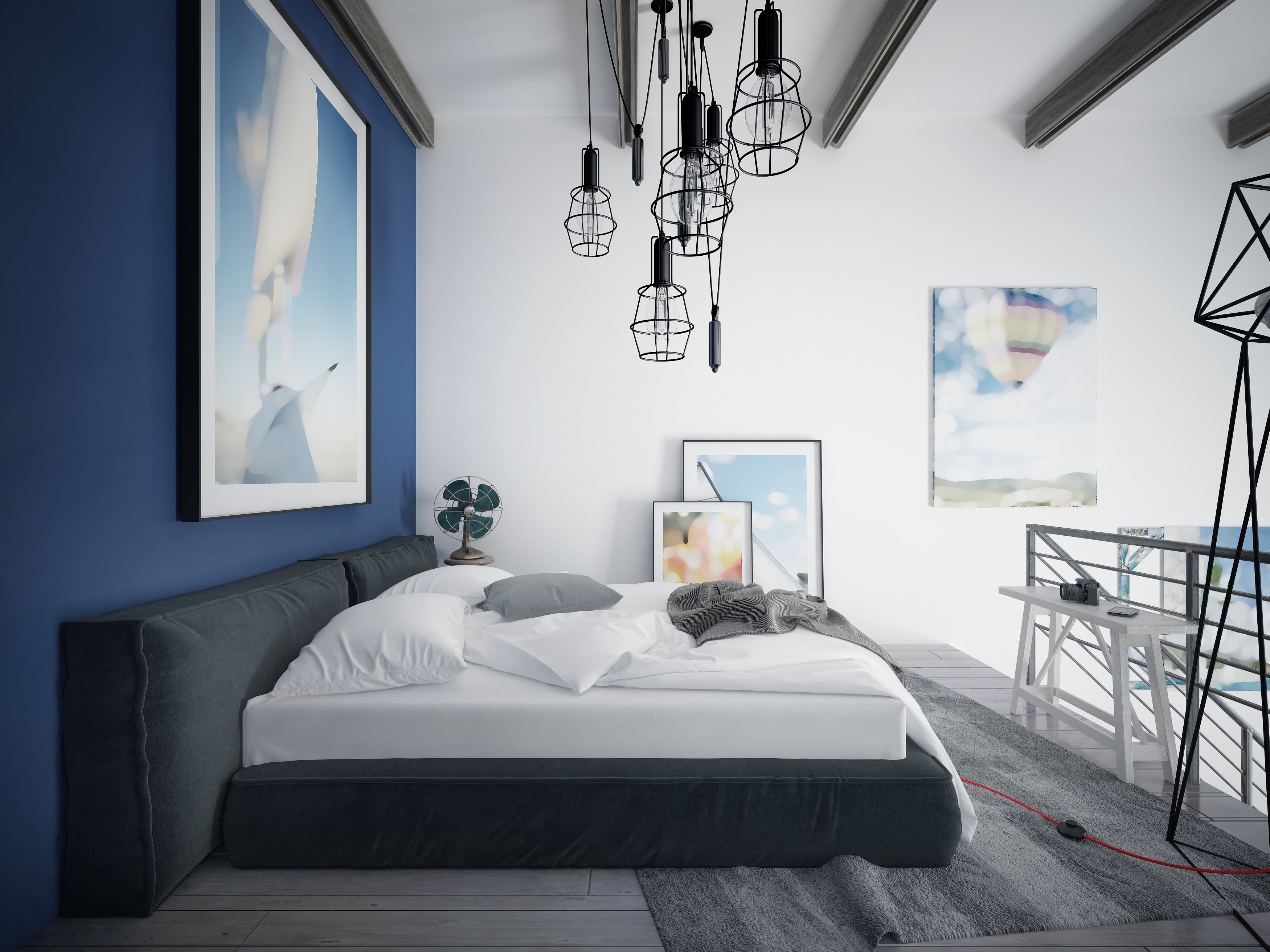 Rethink your colour palette
Your bedroom should help you relax and unwind after your day, which is why light and neutral paint colours are such a popular choice as they help exude a sense of calm. Off-whites, greys and beige tones give your room added warmth while allowing for furniture and bed sheets to add a creative or colourful element.
Design Tip: If you want to create a serene bedroom sanctuary, opt for one of these paint colours.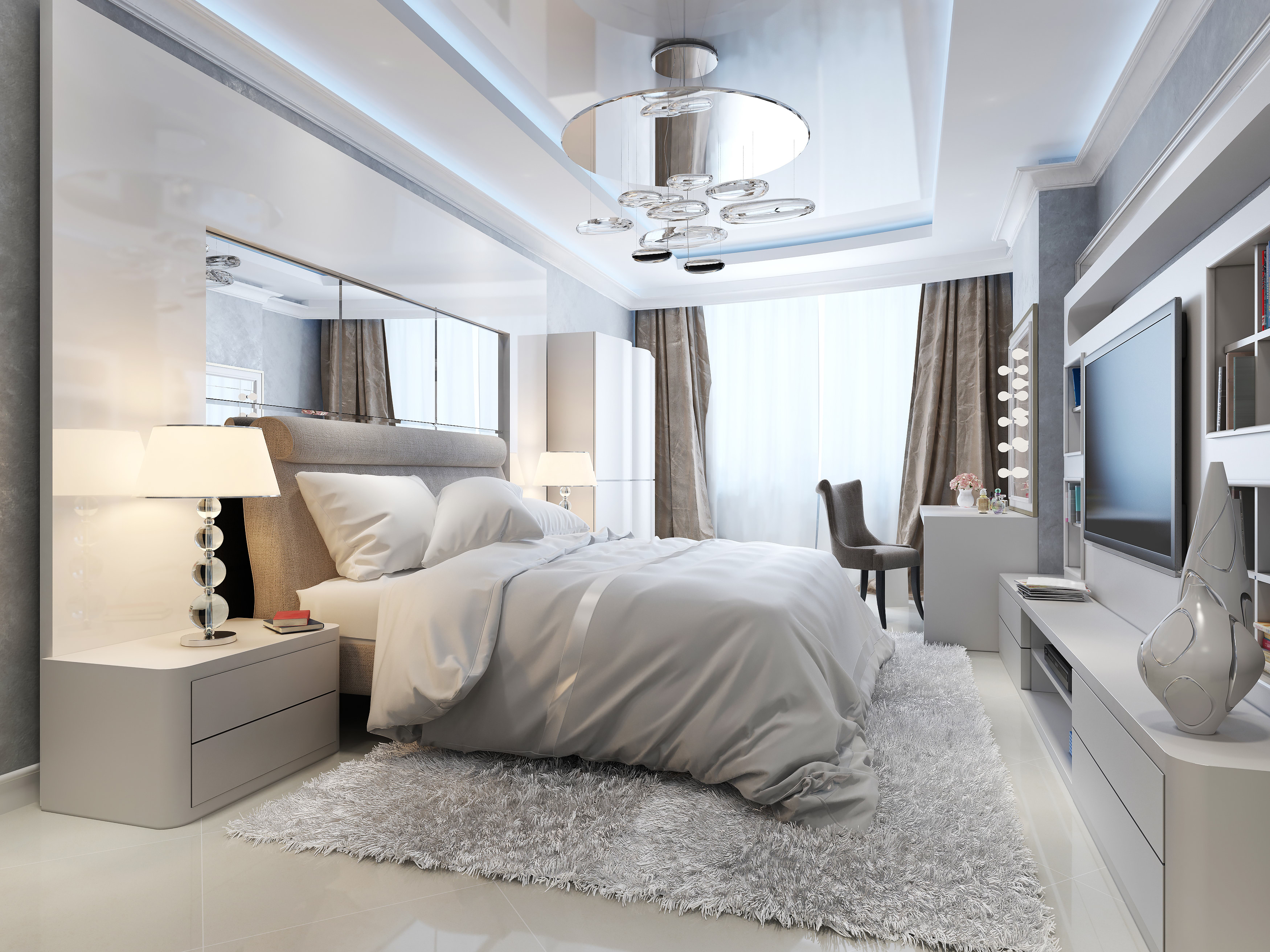 Don't be afraid of going bold
While neutrals may be the norm, a big room gives you a big spectrum of colour options. A larger space grants you more wiggle room to play with bold colours, patterned wallpaper and dark accents without making your room feel overbearing. Look to Dulux for bold colour inspiration in their 2019 colour forecast.
In fact, dark colours are a great way to make a large space more manageable. Rather than stark whites which will open up the room, darker colours will bring everything closer in. Sufficient lighting will make dark accent walls feel warm and comfortable - even from those far to reach corners. Combined with white trim and other light accent features, the space will feel less like a cave and more like a high-end designer bedroom.
If you're looking for a big change, think about creating an accent wall with patterned wallpaper. Bye bye boring, hello impact. It's guaranteed to be the first thing people notice as they walk in. Contrasting florals and jewel tones are top on mind for interior design style .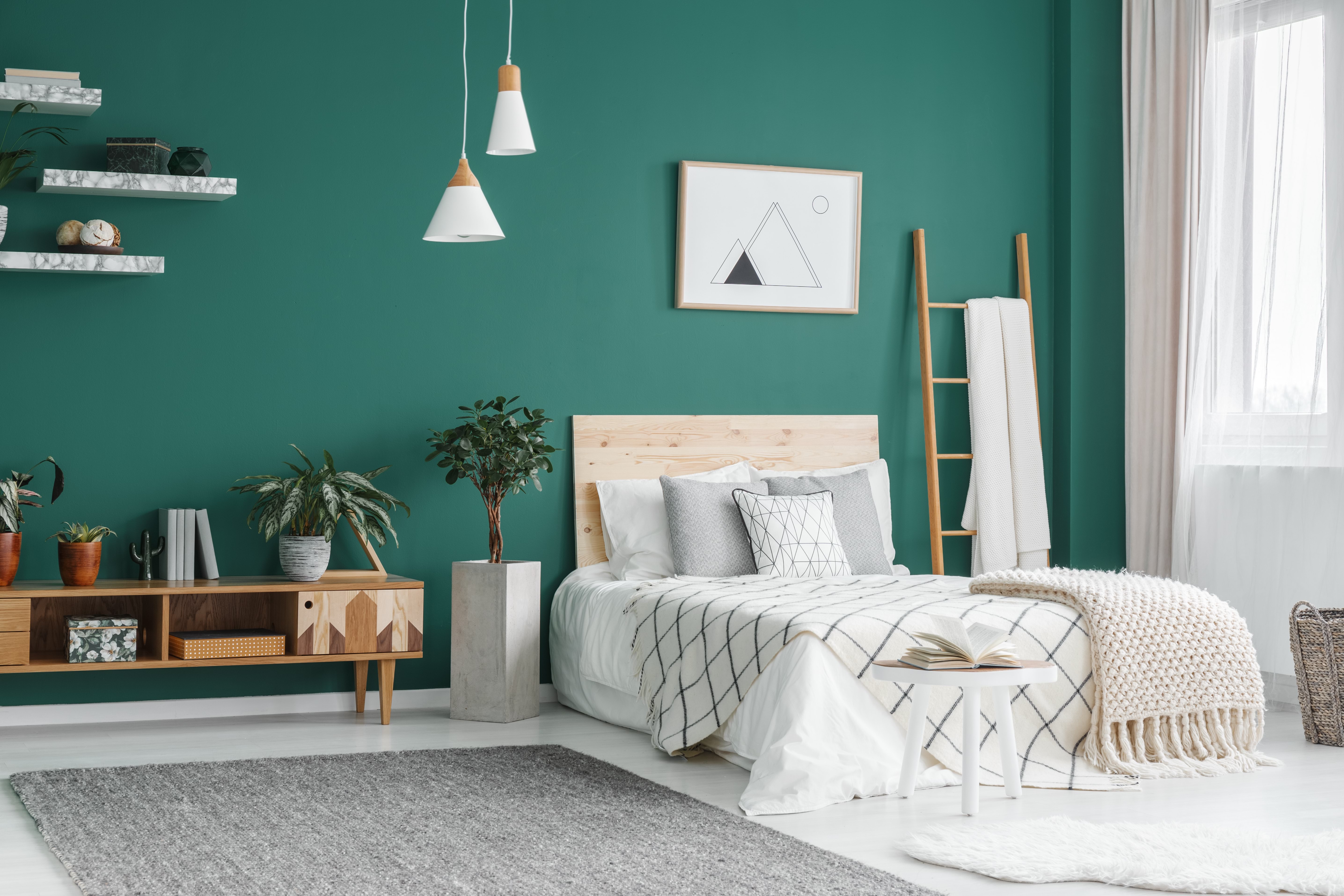 Design Tip: While your spacious bedroom may have the correct colours, it could all be for naught if your furniture doesn't jive. Make sure your choices are scaled to fit the space or you run the risk of making your room feel like a reception rather area than a room.
Decorating a small bedroom
Small space? No Problem! Canningvale has some big redecorating tips for even the smallest of bedrooms. While many interior design blogs feature big, airy rooms, most of us don't have the luxury of 15 foot ceilings and expansive wall space. What we do have is creative solutions which will transform your bedroom into an airy oasis regardless of its smaller footprint. Everything from stand-out fabrics to lighting and accessories can help shape your space.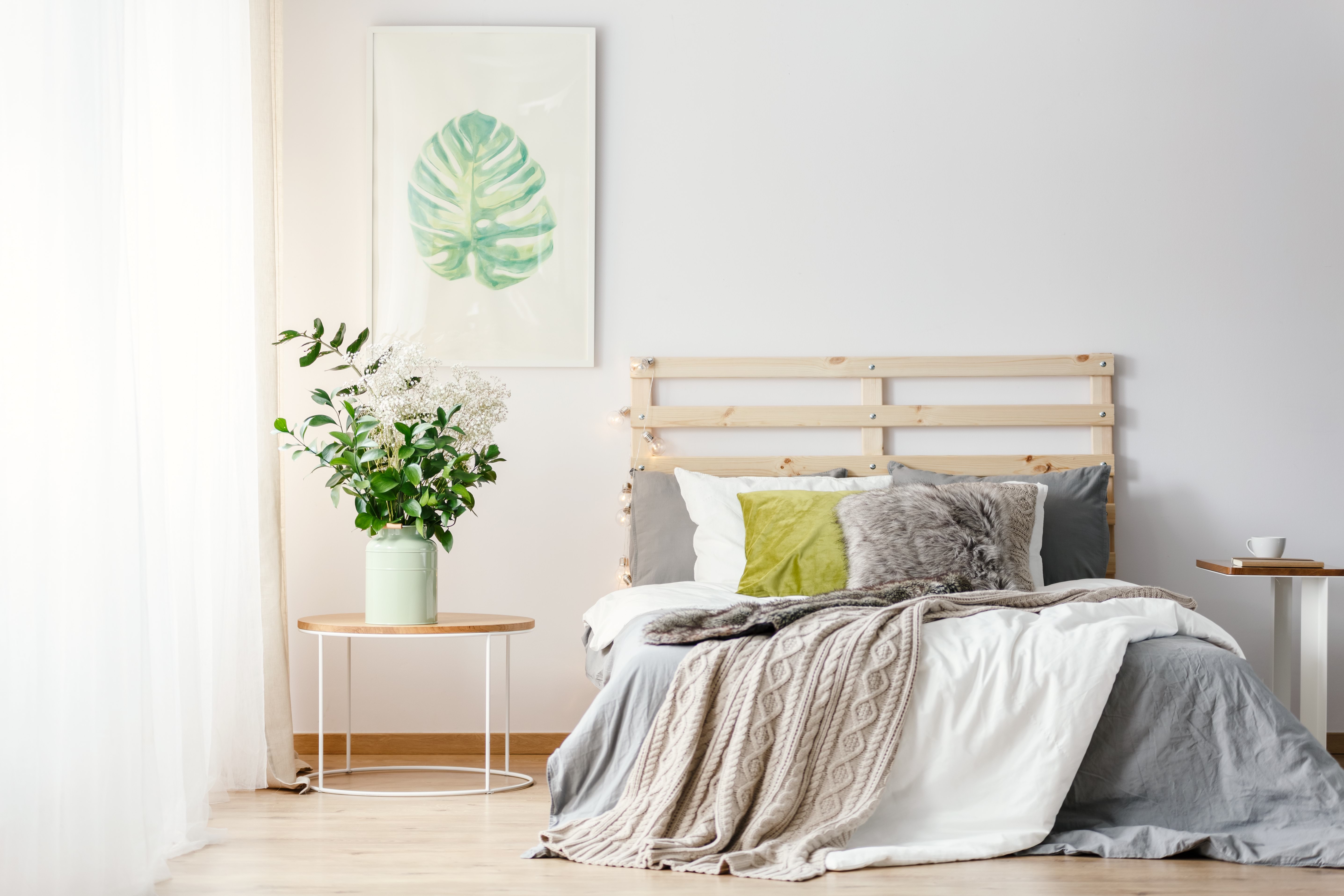 Reflecting light is the secret to making your room feel larger
The best way to open up a small bedroom is create the illusion of more space. This can be done by using smart accessories as part of your decorating scheme. By adding a large mirror - tactically placed opposite a window - it'll help make your room feel lighter, brighter and more spacious. Mirror, mirror on the wall, who's got the best small space of all? Besides all the great things they do to the appearance of your room, a nice mirror can act as a pretty impressive design feature. If you don't have room for a large mirror, you can opt for smaller mirrors grouped together and placed near windows or artificial light for a similar effect.
Design Tip: The easiest and most effective way to up your natural light is to find a body length mirror and lean it up against a wall. This is a no fuss way to open up your space while still promoting a functional design element.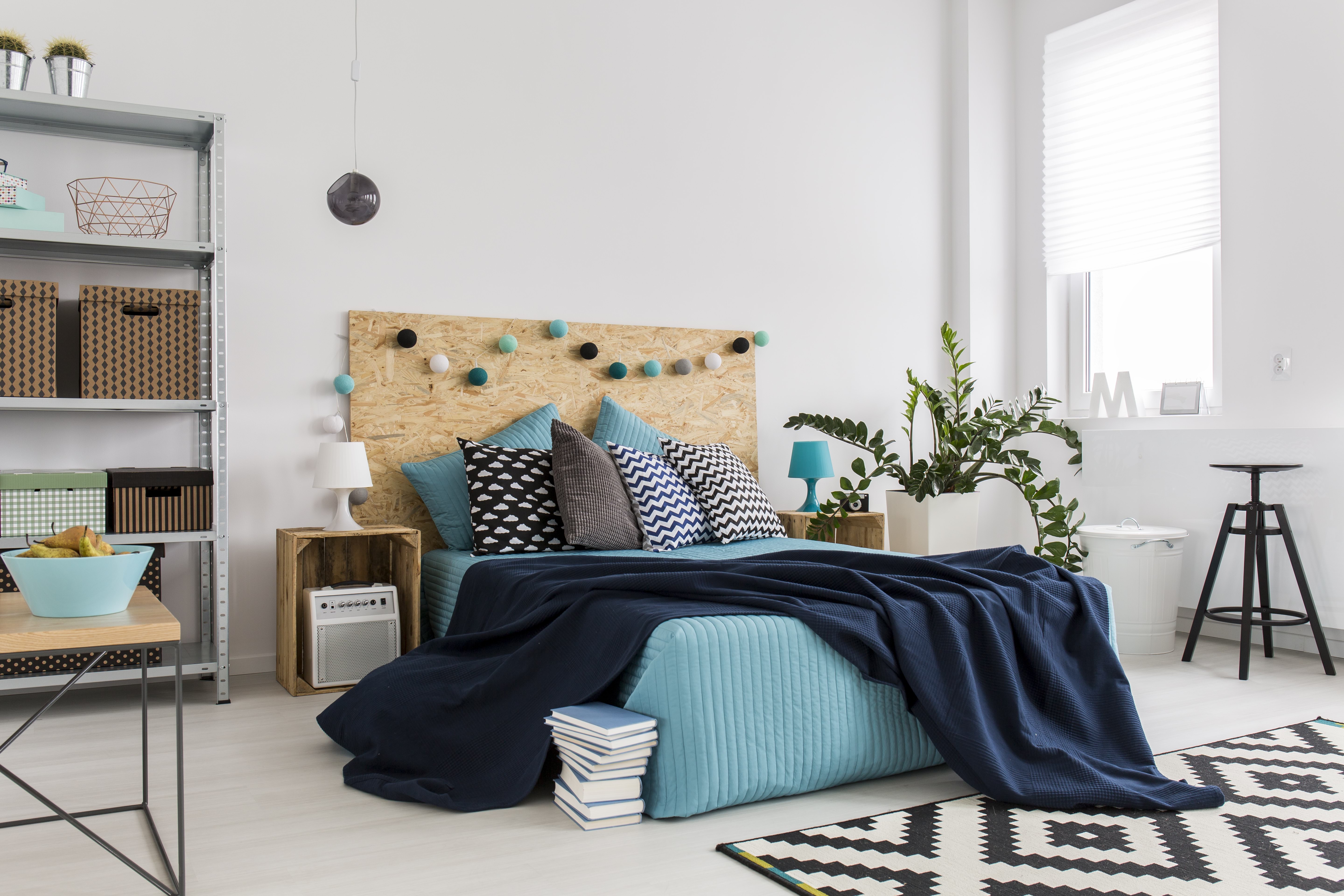 Get creative with your storage
If your room is fun-sized, you can have a lot of fun with creating storage out of thin air. Under the bed storage, closet organisers and nightstands are all simple and known ways to hide your clutter and show off key accessories which help tie your room together. Another option is to make use of the dead space at the foot of your bed. An ottoman or a chest can act as a design element, a place to sit and put your shoes on (functional) and can provide a lot of additional storage including bulky items like bedding or winter coats and jumpers. The smaller the space, the more creative the storage solution needs to be, and the more selective you should be with your accessory choices. Showcase just enough to keep your room cohesive while still remaining functional.
Design Tip: We could spend years scrolling through Pinterest storage solutions but our favourite small space savers are things you can hang from walls or your ceiling. Create your own hanging shelves to save much needed floor space.
<
Lighten up your linens
The smaller the space, the lighter, or more monochrome, your colour scheme should be. This applies to both your walls and bed linens as sticking to one - preferably lighter colour - will help make your cosy space feel more airy and less claustrophobic. If you're worried about getting bored with all the neutrals, turn to textures to add dimension to your space. This textured blanket from Canningvale is the perfect addition to a chic summer revamp.
Design Tip: If you have heavy drapes, consider replacing them with a sheer, white option. Not only will this allow more natural light to flood in, it minimises the bulkiness of heavier fabrics which keep your space feeling fresh and breezy.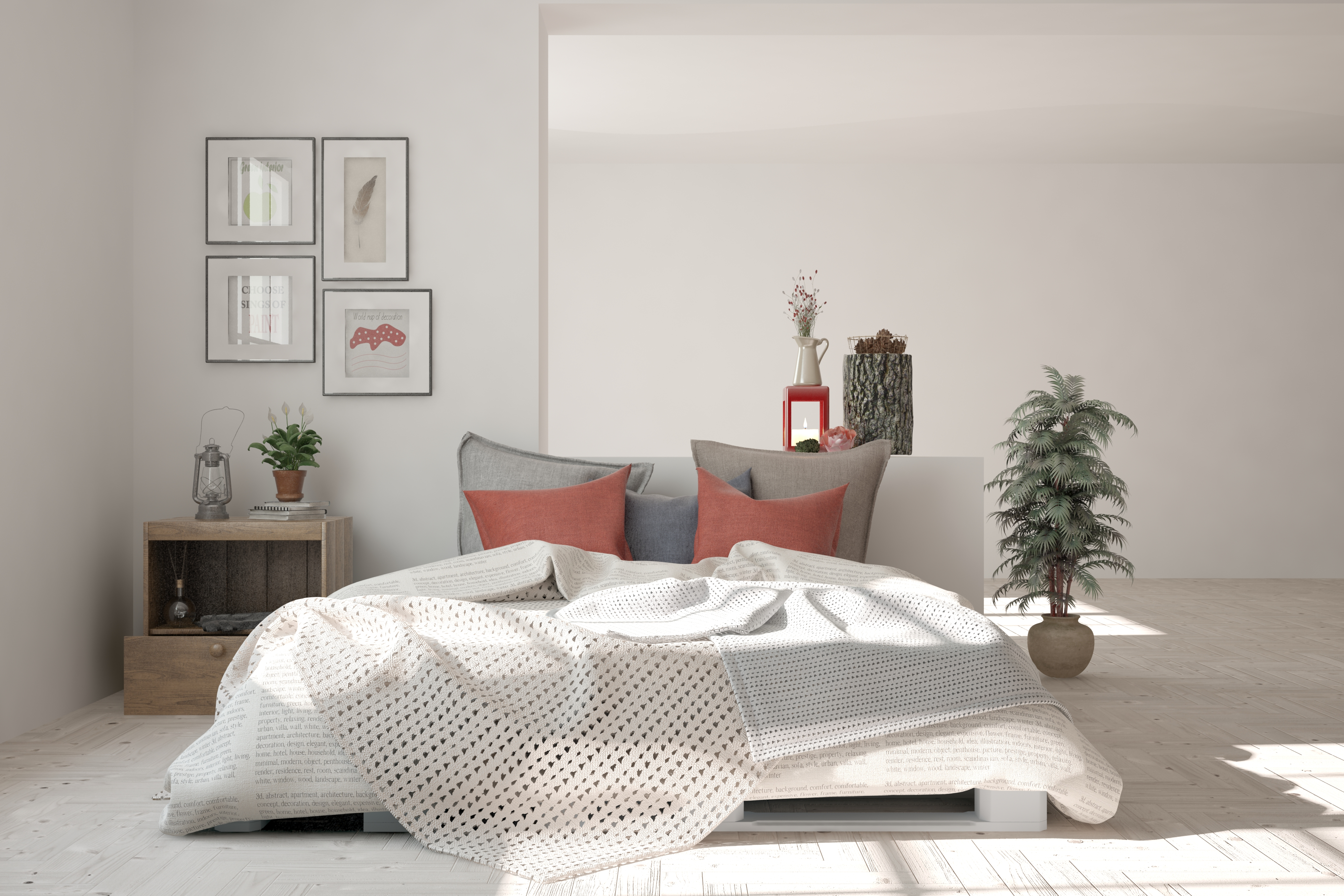 How to decorate a bedroom on a budget
While many of the above options can be done fairly inexpensively, if you're sticking to a strict budget, there are some easy hacks to liven up your space without breaking the bank.
Bring the outside in
Stop and smell the roses. Or daisy or whichever floral you're feeling at that moment. Adding fresh flowers or a nature-scented candle to your nightstand, windowsill or bookshelf is a great way to breathe life and colour into your small space.
Design Tip: Save some cash and avoid constantly buying new flowers. Instead, try drying your current ones and keeping them on display for months at a time. Native flowers dry the easiest and you can preserve their colour by spraying hairspray over the petals once they're completely dried out.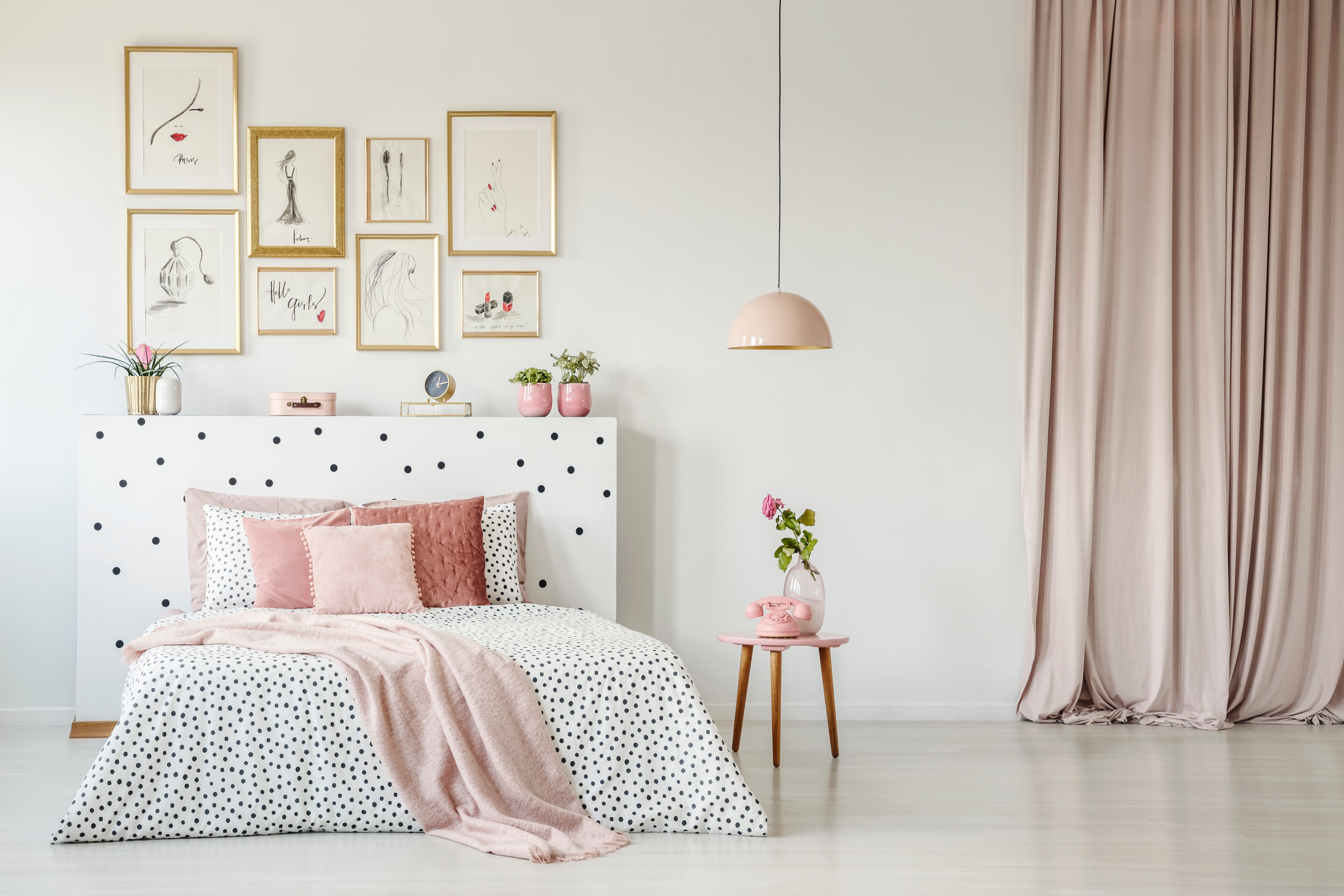 Redistribute your artwork
If you have paintings photographs hung around your home - especially congregated in more social areas of the house, like your living and dining rooms - you may benefit from a little reorganisation. If your bedroom is lacking in art, this is one way to completely change up its landscape. Experiment with different prints and canvases until you reach the desired effect. For maximum impact, position a piece of art over your bed head to see how much it can change the vibe of the room. Just remember, there's no need to go overboard. Choose a one piece you really dig and make it the commanding statement piece of your space.
Design Tip: Instead of going out and purchasing expensive paintings, why not create them yourself? Making a DIY Chalkboard is easy and allows for you and your friends to create new images whenever you fancy. This keeps your decor fresh and your creative juices flowing.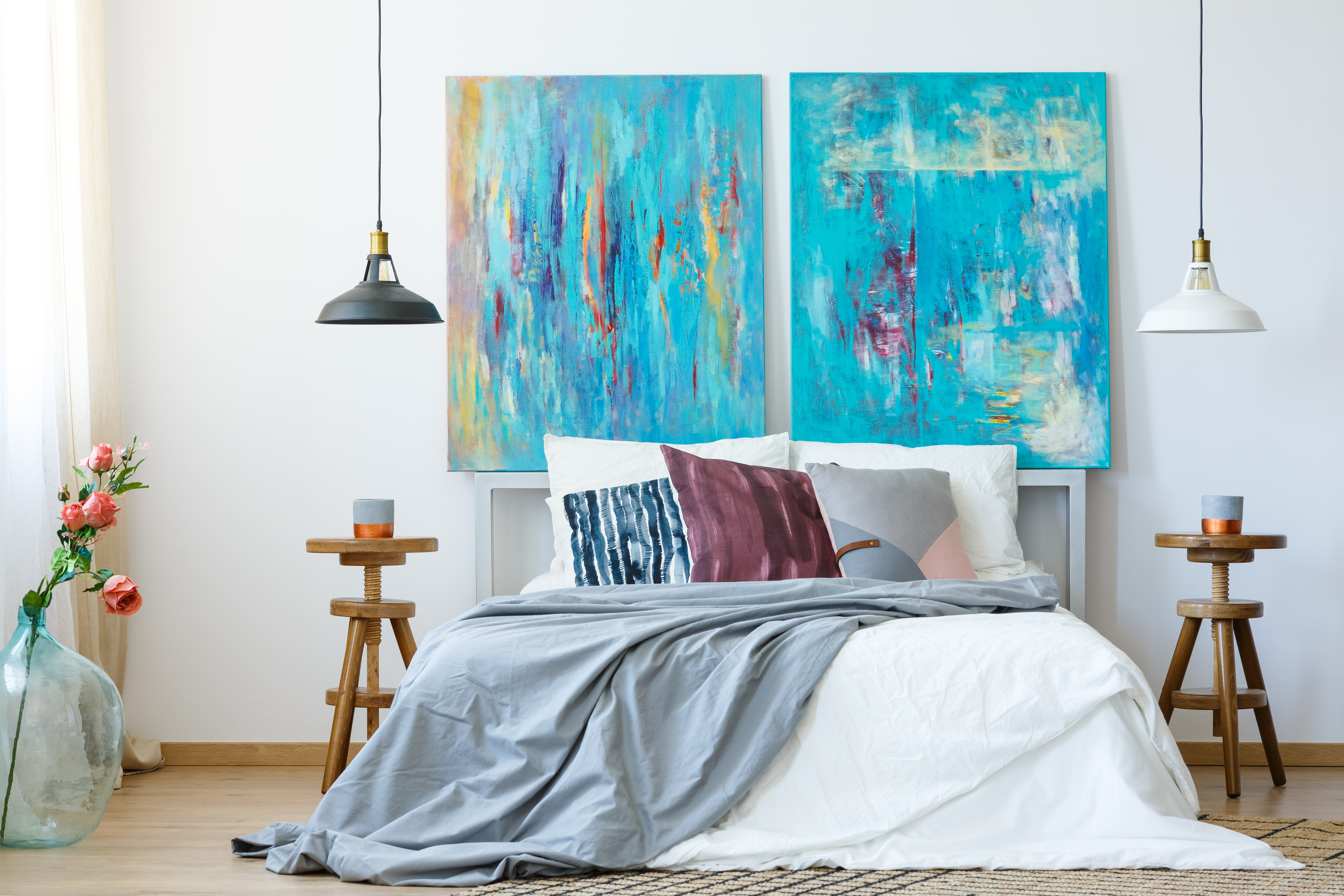 It's the small things that count
If you're lacking in art, try upgrading your accessories or lampshades instead. This is an inexpensive way to give your bedroom decor a fresh new look. You'll be surprised by how the smallest details can make the biggest difference. Because while the style, theme and wall colour define your room, the lighting is what creates ambience and ultimately sets the mood.
Design Tip:Make your own lampshade for a completely custom look. Pinterest, Etsy and other crafting sites are awash in cute homemade bedside and hanging lamps. This gives you the flexibility to make one or a couple different shades to change out either seasonally or as your mood dictates.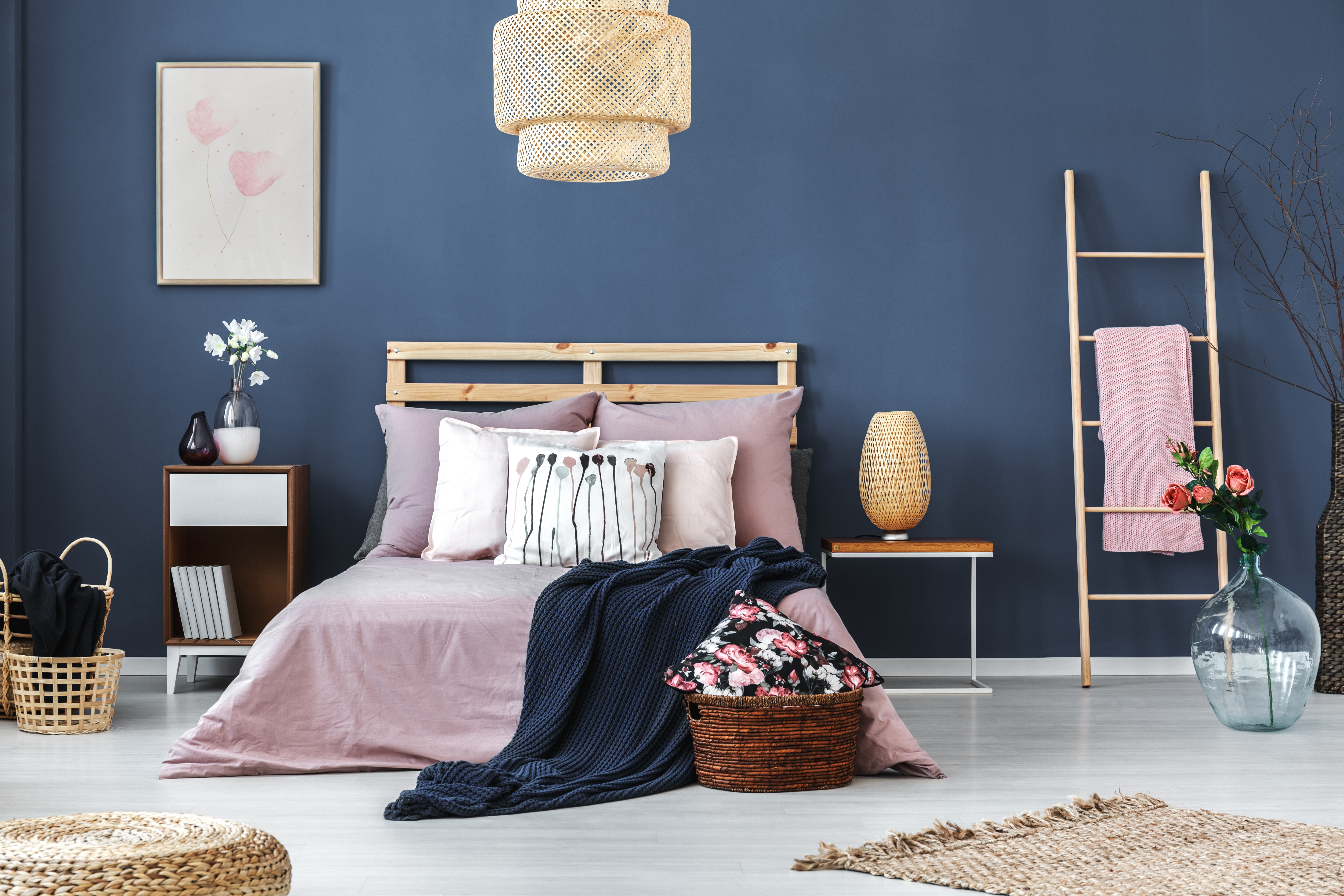 Layer pillows and fabrics for Bed Decor
If you only make one change to upgrade your bedroom decoration, it should be your pillows and throws. A layered bed instantly changes your space from run-of-the-mill to glamorous getaway. For the best look, use a mixture of standard pillows and decorative cushions as a fun and easy way to transform your room, while staying on a budget.
decoration trends are in and out for 2019.
Design Tip: There's no right or wrong number for the amount of pillows to use, as long as your styled pillows don't take up more than a quarter of the bed length. On average two to six pillows will do the trick. You don't want to dig your bed out from a mound of cushions each night. The key to a great design is maintaining practicality.
<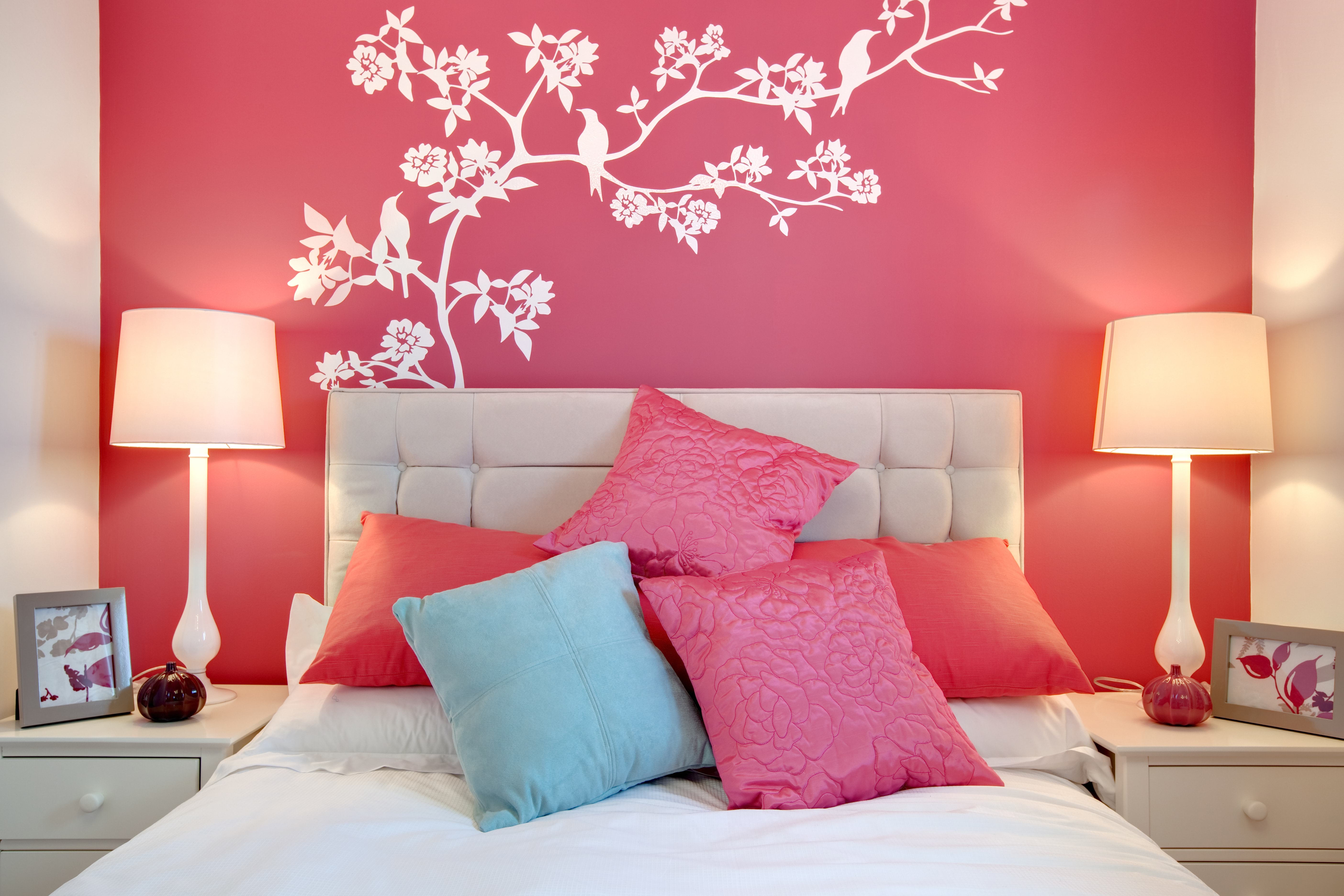 How to choose decor for romance
Want to heat up your interior decor? Romantic decorations don't necessarily mean pink and feminine. It's more about graceful curves and soft touches paired with masculine accents like dark wood, contrasting stripes and premium sheet sets. Breathe a little romance back into the bedroom by thinking with your senses rather than your mind. Sight, sound, touch and smell should all be an integral part of your decoration scheme.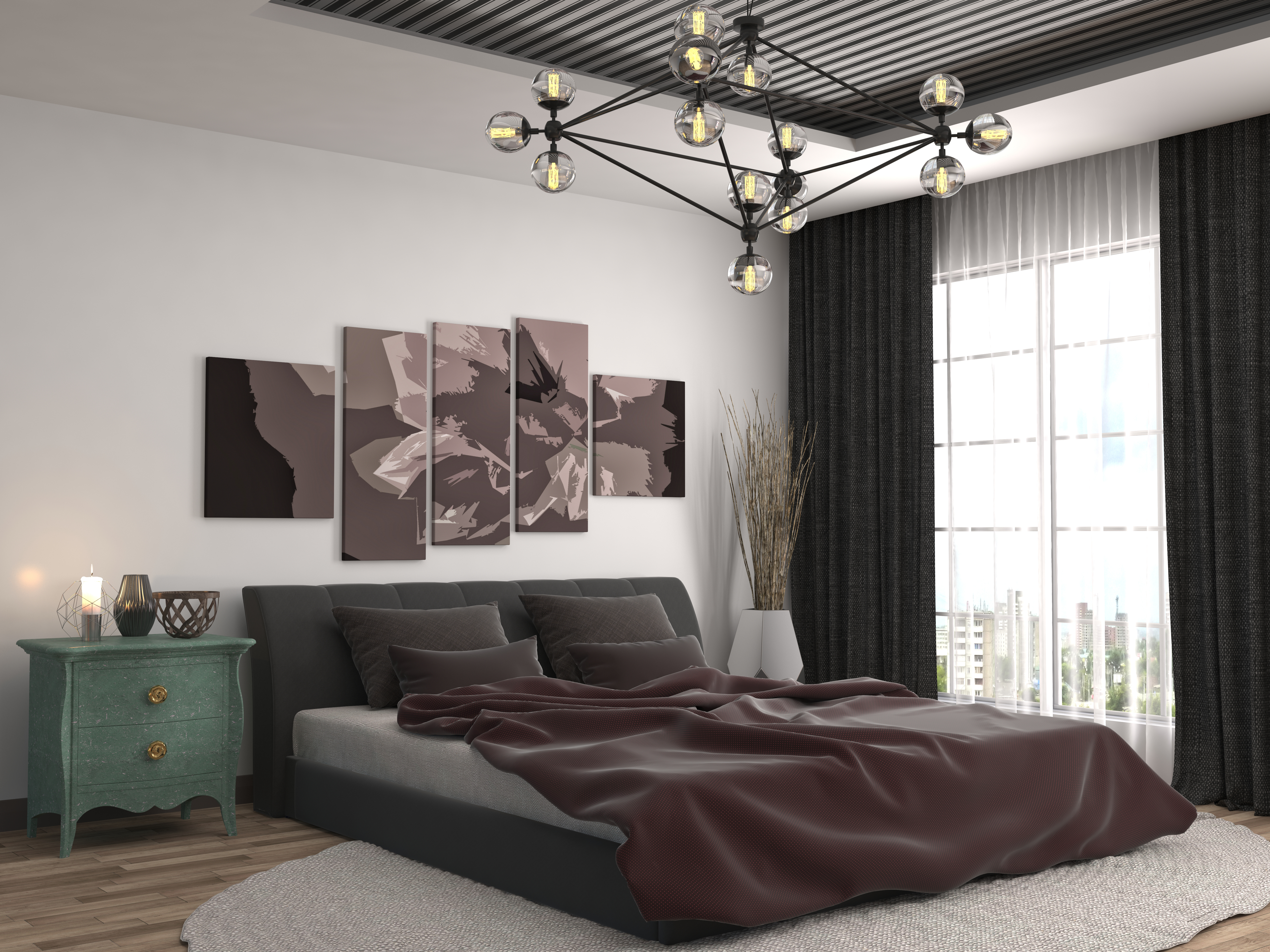 Decorating with accents
Because your colour scheme for romantic decor may live more among the pastels, blues and creams, you'll need to bring in some accent pieces to add a tinge of dark and sexy to the design. Romantic decor is about heavy contrasts and these edgier pieces help the room from staying too light and relaxing.
Design Tip: Silvers, golds and reflective materials are a good choice for romantic rooms and can be utilised through accessories, picture frames and art. Even a big mirror placed opposite the bed could have the desired effect.
Regardless of whether your bedroom is large or small, opulent or budget-friendly, for yourself or for someone else, it's essential to have a room you feel comfortable in. It is the most personal space in your home after all. These tips on how to decorate your bedroom will help enable you to easily revamp your space so you enjoy coming home, day after day to a bedroom that makes you happy.