Posted by The Canningvale Team on 7th May 2023
Winter nights can be long and chilly, but there's nothing better than curling up in a cosy bed to keep warm. With the right layers, you can transform your bed into a winter haven that's almost impossible to drag yourself out of!

Starting from the base – a luxurious wool underlay – and working all the way up to your quilt, pillows and an extra throw blanket, this is your recipe for the ultimate in winter bedding. But buyer beware, it's almost impossible to get out of a bed this cosy come 7am!

Warning heeded, here's our guide to layering your bed for maximum warmth and comfort this winter.
1. Base Layer: Wool Underlay – Lay it on thick

The key to a super warm and comfortable bed is a good base layer, and the Canningvale Premium Wool Underlay is the perfect candidate for the job! Made from premium quality wool, this underlay adds an extra layer of insulation to your mattress. Plus, the natural properties of wool help regulate your body temperature, keeping you warm and cosy, but never overheated.
2. Layer Two: Sheets – Get in between the sheets and snuggle up

Next up, the sheet layer. For maximum warmth and comfort, look no further than our CoziCotton Flannelette sheets. Made from 100% brushed cotton, these babies are brushed no less than five times for the ultimate soft and cosy texture that will keep you snug all night long.
And if you're not a flannelette fan? Try our Alessia Bamboo sheets instead. The Goldilocks of sheets, they're made from a blend of bamboo and cotton, which is breathable and moisture-wicking, keeping your temperature juuuuust right.
3. Layer Three: Quilts & Coverlets – Wrap yourself up like a burrito

Winter nights can be a real downer (temperature-wise!), but fear not, our Winter Wool Quilts are the perfect remedy to keep you warm and cosy all night long. These wool wonders are made from 100% Australian wool that naturally regulates your body temperature, keeping you perfectly snug no matter how low the mercury drops.

And if you're looking for a little extra warmth (with a side of flair!), our Coverlets are like the cherry on top. The extra layer is a perfect winter indulgence, and an extra chance to have fun with your colour palette and winter décor.
4. Layer Four: Blankets, Throws & Pillows – Pile them up high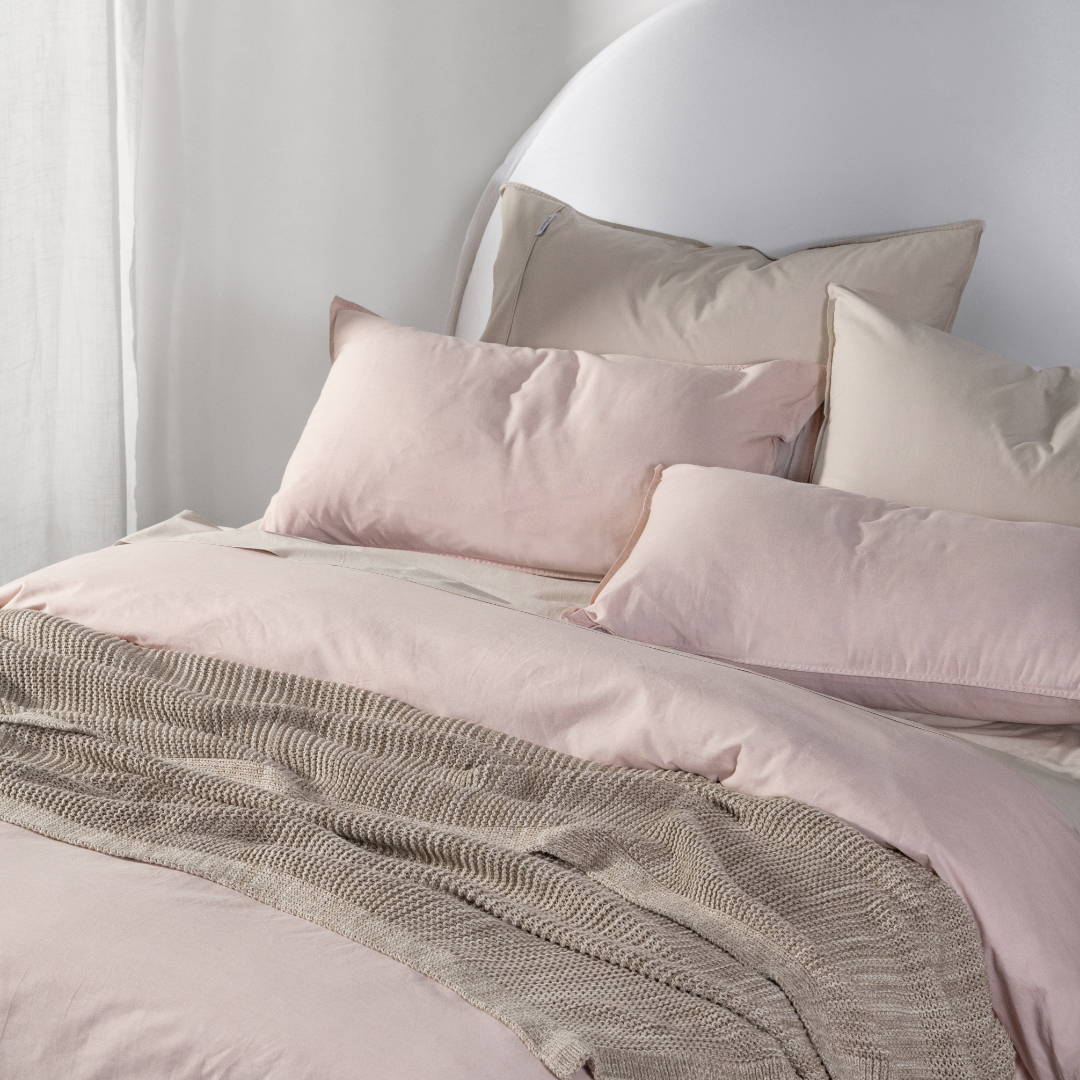 The final layer! You're almost ready to hibernate your way through winter. To finish off your cosy bedding bundle, it's time to add the final touches for maximum warmth.
First, let's not forget about the importance of a good pillow! Our Lana Wool Pillow is perfect for those who want a pillow that can keep them cool in summer and warm in winter. This perfect mix of wool and polyester combines the comfort and warmth of wool, while the poly adds support and loft, making it perfect for anyone, any season.
And finally, add a throw blanket you can cuddle up with on the coldest nights. Whether you plan to layer it on top of your quilt, or leave it draped at the base of the bed, pick a design you love (and that complements your decor), since this will be the top layer of your beautifully made bed! Our Alpini throws are soft, durable and oh-so-snuggly, the perfect final touch for the perfect winter bed.
So go ahead, pile up those blankets and pillows, and snuggle in for a warm and restful night's sleep.