Posted by The Canningvale Team on 16th Mar 2023
The Easter long weekend is a great excuse to get the family together to celebrate, and setting the perfect table is a great way to create a memorable and festive atmosphere. Whether you're hosting a casual brunch or a more formal sit-down, there are a few key things to keep in mind when setting your table for this special occasion.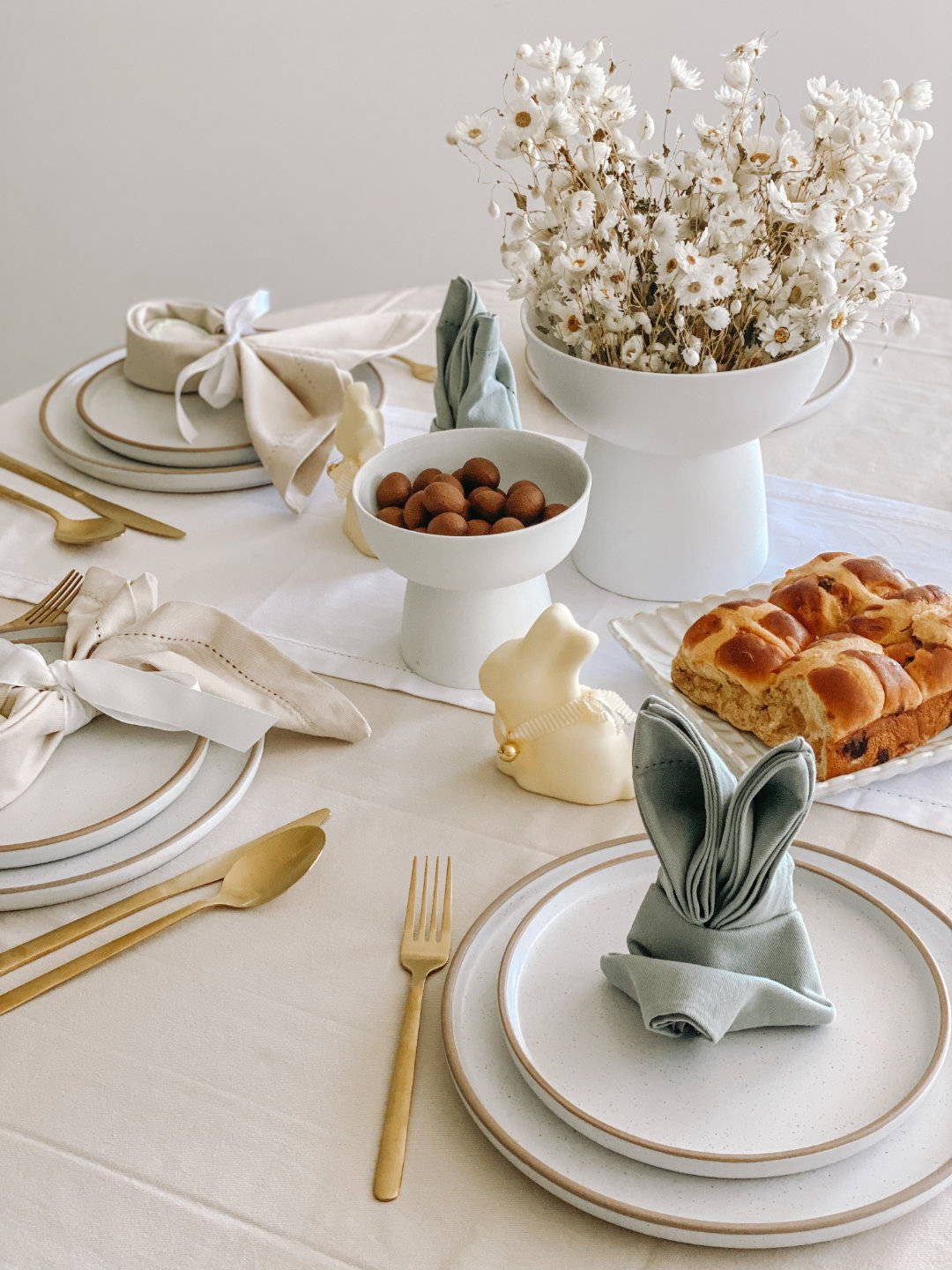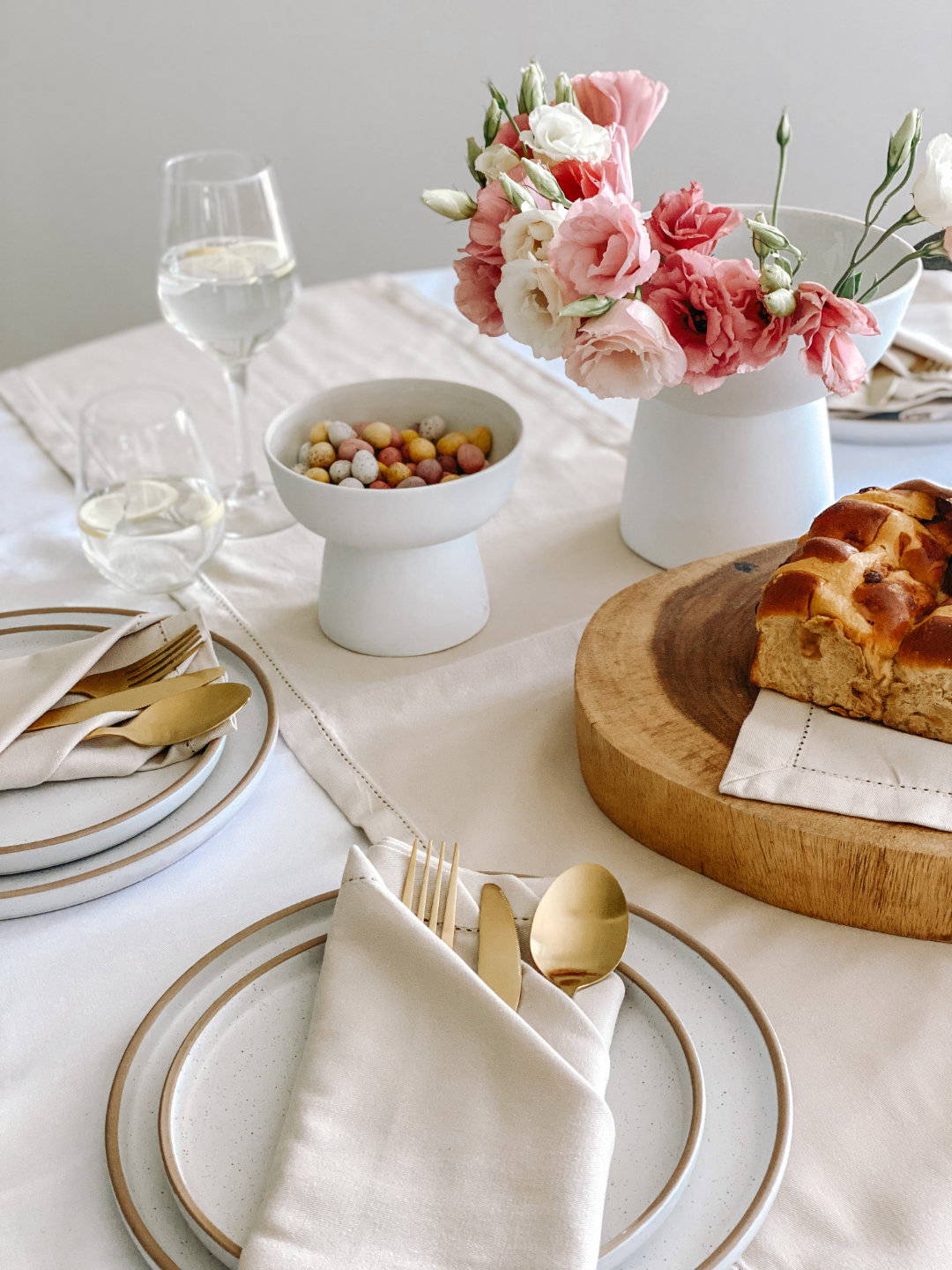 Think about the table setting itself. For a more formal lunch or dinner party, set your table with your best china and gold flatware and add a wine glass and water glass at each place setting.
For a casual BBQ maybe themed paper plates (think pastel colours to match the décor or brown kraft) and eco-friendly disposable cutlery.
Mismatched crockery and cutlery give a certain je ne sais quoi, an almost Mad Hatter's Tea Party effect that could be perfect for a quirky Easter celebration (with an appearance by the White Rabbit himself)!
Personalise your Place Settings
Really embrace the occasion with personalised Easter Egg place settings.

Add a touch of whimsy with Bunny Ear folded napkins. Fold your napkins in half on the diagonal and roll them up from the point to the widest edge until they look like a rope. Bend the napkin in half, nestle some pastel-coloured Easter eggs at the bottom of the "U" of the napkin and tie the two sides together just above the top of the eggs.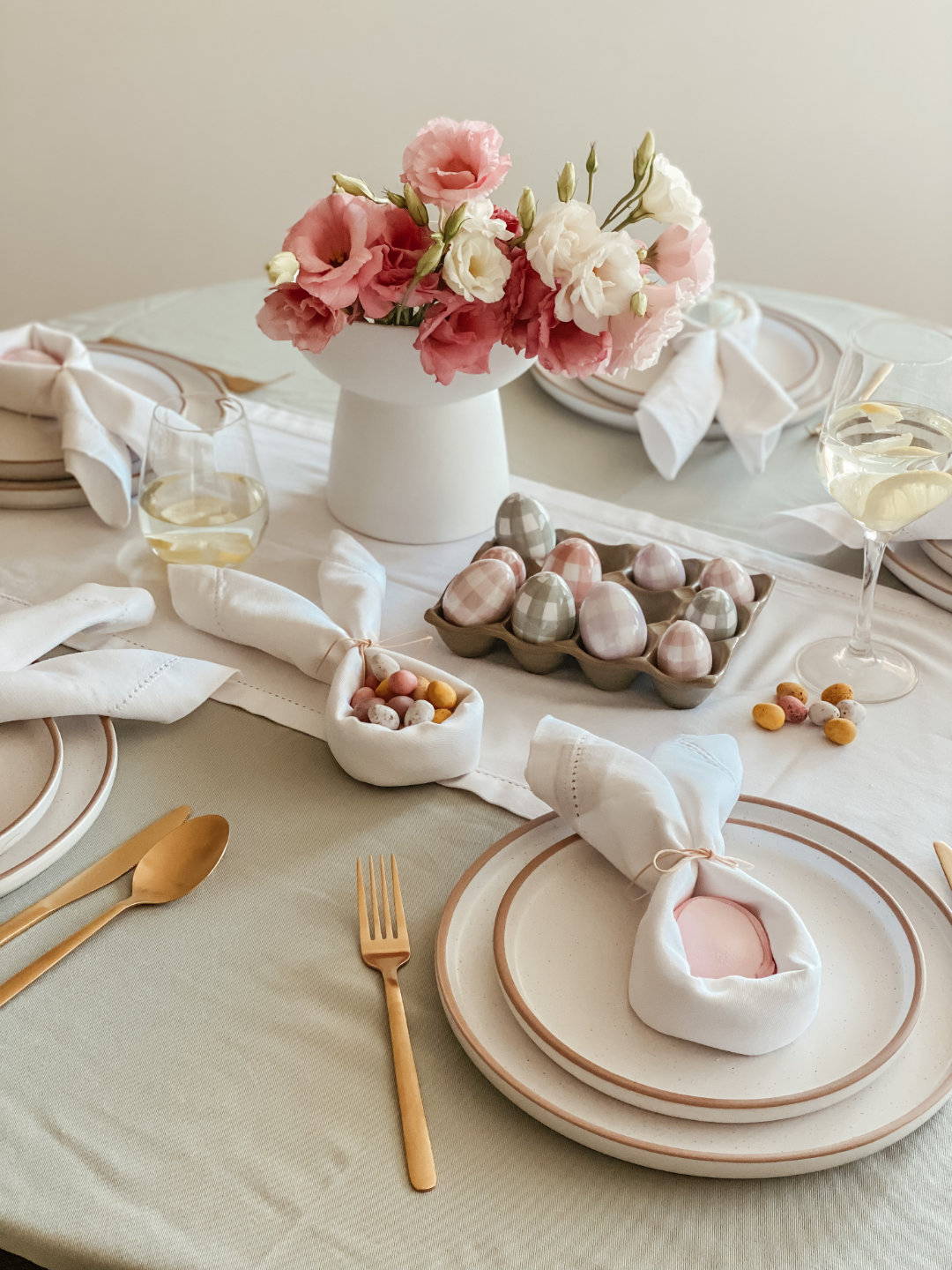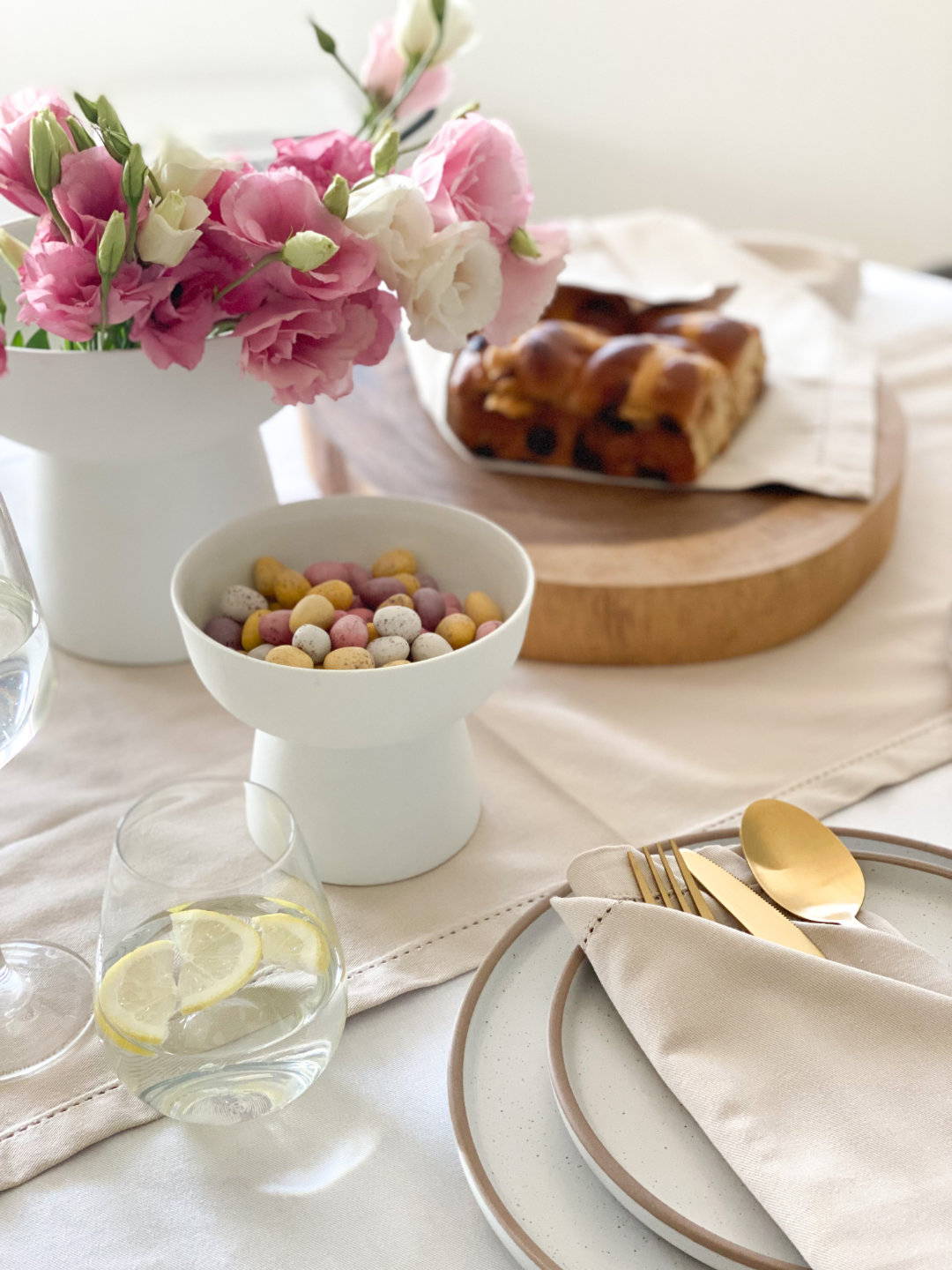 Decorating your Easter table with flowers is a simple and beautiful way to add a touch of class to your celebration. You can create a centrepiece by arranging flowers in a vase or basket, or place small bouquets at each place setting for a pop of colour. And if you're not exactly a dab hand at flower arranging, a bunch of baby's breath in a simple vase can create a surprisingly sophisticated Easter table accoutrement.
If you're looking for a more organic look, consider using branches or greenery and mix in Easter-themed items like eggs and bunnies.
If the weather permits, why not host an alfresco Easter feast? And just because you're dining outdoors, doesn't mean all that décor needs to be forgotten! To start, choose a location with plenty of natural light and fresh air. Use a tablecloth or placemats that coordinate with your colour scheme and place settings. Consider using outdoor-friendly plates, glasses, and flatware that are durable and can withstand the elements.

Bonus points for having sunscreen and bug repellent available for your guests! Nothing ruins a beautiful family occasion quicker than sunburn and mozzie bites!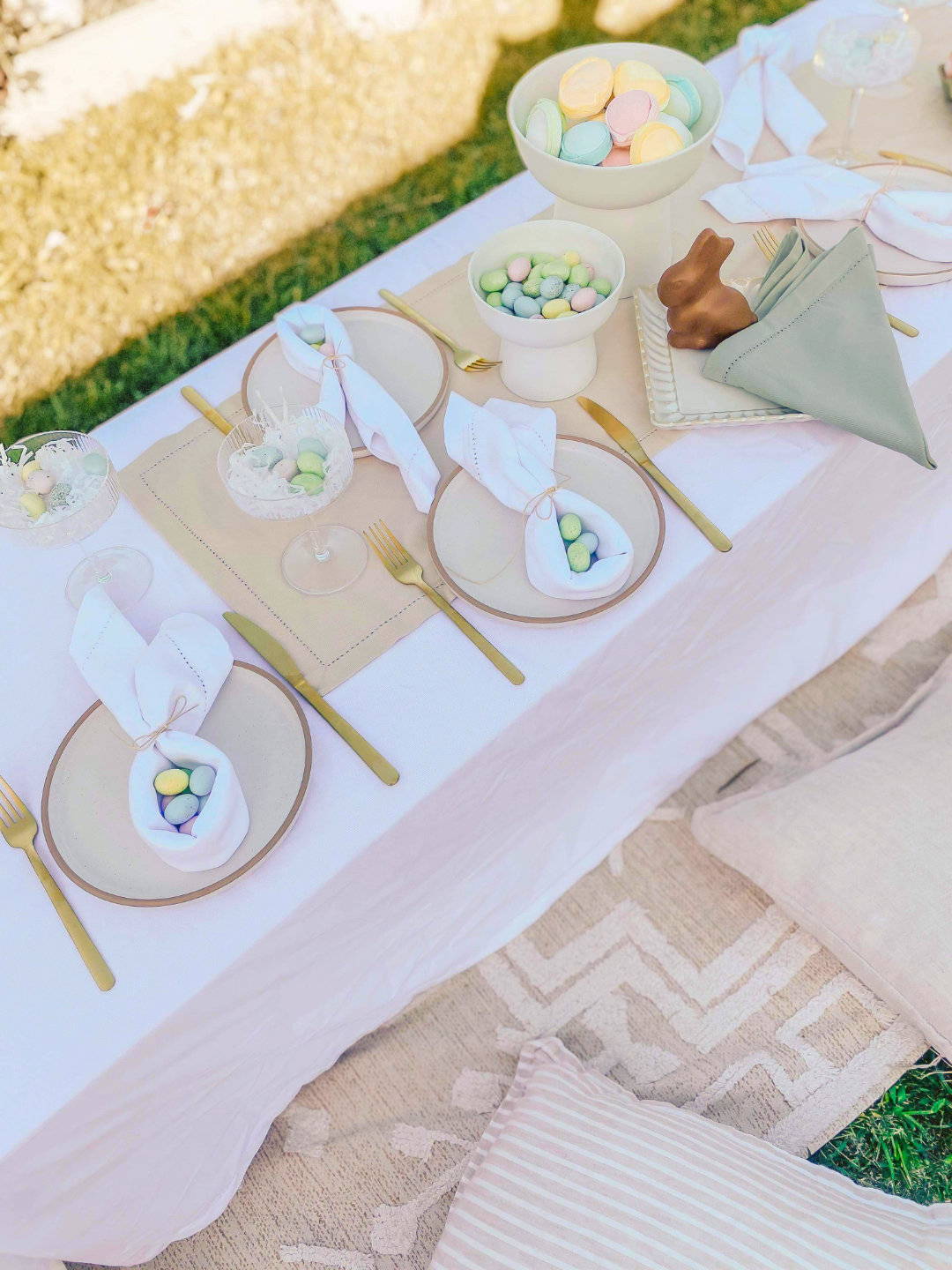 Finally, don't forget the details! Make sure you have enough serving dishes, utensils, and plates on hand so that your guests can easily help themselves to the delicious food you've prepared. And don't forget to have plenty of refills for the drinks so everyone can stay hydrated and happy throughout the meal.

And remember, setting the table for Easter can be as simple or as elaborate as you want it to be! Choose a colour scheme, arrange the place settings, add personal touches, and pay attention to the details, and you'll have a beautifully set table that will be the talk of the day. Happy Easter!
Got questions on styling your Easter table? Be sure to ask us over @Canningvalelove
---